Ankarsrums main strength is to knead dough!
You can choose between dough roller or dough hook. The dough knife which scrapes the inside of the bowl is always used.

When you make dough in Ankarsrum Assistent Original you should always add the liquid first. Regardless of recipe.

Then add the dry ingredients.

Remember to add the flour little at a time. Often when using Ankarsrum you do not need to use as much flour as the recipe says. Keep in mind
that the dough becomes firmer and firmer after 8-10 minutes of kneading.

If you bake a large dough of 1.5 l of liquid. Remember to ferment in two bowls.

At the beginning of the kneading, you may need to help the assistant to dissolve the yeast. Then pull the arm towards you a few times.

When kneading dough, use low speed on the assistent.
Dough roller
Always use the dough roller together with the dough knife to push the dough towards the middle of the bowl.
Always use when making buns or firmer doughs with butter. Can also be used for big batches of cookie dough.
Initially, let the dough roller rest against the edge of the bowl while you dissolve the yeast and start adding ingredients.
The position of the roller may need to be adjusted during kneading for best results
Just adjust the arm by using the arm knob.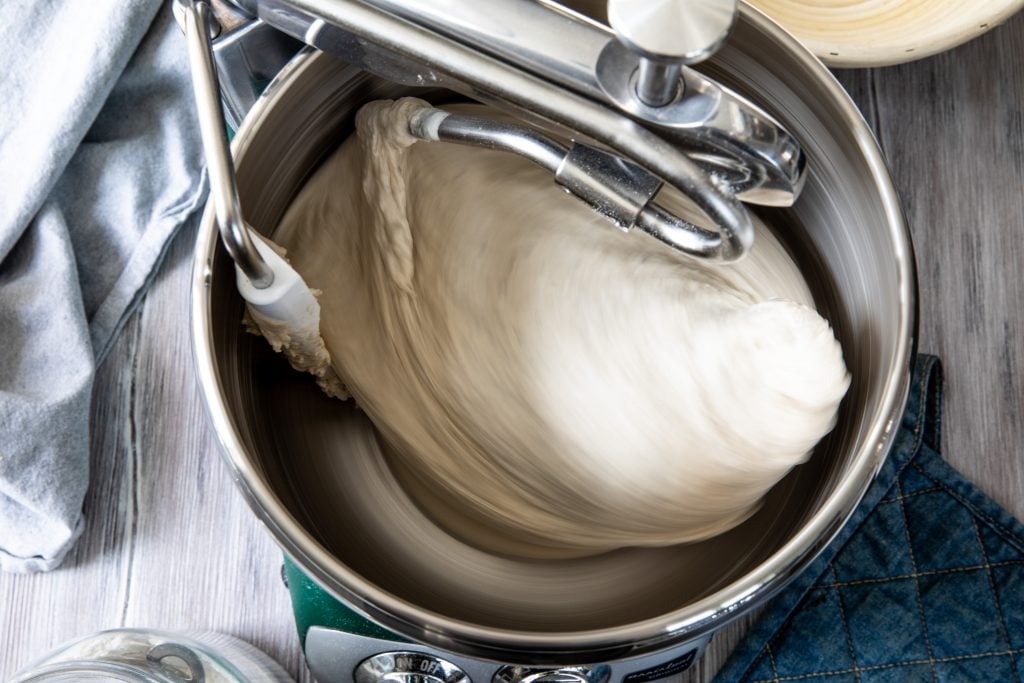 Dough hook
Always use the dough hook together with the dough knife to push the dough towards the middle of the bowl.
When you make a large and heavy dough and a dough with a lot of liquid, the dough hook does the job best.
Assemble the dough hook but do not lock the arm. The dough hook does not create the same movement as the dough roller initially and here you need to help a little when the yeast is to be dissolved. Pull a little in the arm or the dough knife.
When you add the flour and the dough hook starts kneading the dough, center the dough hook and lock 2-4 cm from the edge. Work with the position of the dough hook if necessary. Remember not to add all the flour at once. It is important that the dough does not get too dry when you use the dough hook.