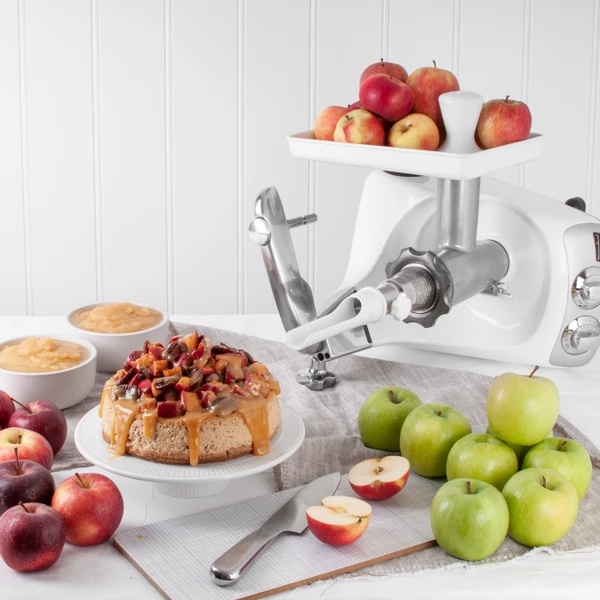 Ingredients
Bases
100 g butter

250 g Digestive biscuits

45 g sugar

1 pinch salt
Filling:
600 g cream cheese

112 g brown sugar

100 g sour cream

230 g apple puree

1 tsp vanilla powder

3 eggs
Topping
100 g pecans

2-3 apples

25 g butter

2 tbsp brown sugar

½ tsp vanilla powder
Caramel sauce:
250 ml cream

3 tbsp brown sugar

70 g syrup

1 pinch salt

15 g butter
Apple-flavoured cheesecake
A yummy and creamy apple-flavoured cheesecake with vanilla, topped with apples pecans and caramel sauce.
Follow these steps - Bases

Set the oven to 150 °C (302 °F). Put parchment paper in a springform pan, about 22 cm, and grease the edges with butter.

Melt the butter and mix the biscuits to a fine crumb. Mix all the ingredients to the bases and press it evenly into the mold.

Prepare a deep pan or plate for a water bath. The boiler should hold the spring form together with water up to 2/3 of the form.

Follow these steps - Filling

Assemble the assistent with beater bowl and balloon whisks.

Mix soft cream cheese with sugar.

Add apple puree, sour cream, vanilla powder, cinnamon and whisk.

Add one egg at a time and whisk together on low speed until the batter is smooth.

Pour the batter into the mold.

Cover the mold in at least two layers of aluminum foil so that no water enters the mold during baking. Place the mold in the pan and place in the oven. Pour boiling water into the pan up to 23 of the mold

Bake for 1 hour. Turn off the oven, open and release the steam. Close the oven door again and leave the cheesecake for an hour.

Allow to cool completely and then in the fridge, preferably overnight.

Topping:

Melt butter in a saucepan, add sugar and vanilla.

Cut the apples into small pieces and add them and the nuts to the saucepan. Let simmer until the apple pieces are soft. Let cool.

Caramel sauce:

Mix cream, sugar, syrup and salt in a saucepan.

Simmer while stirring until the caramel sauce has thickened and turned golden. Remove from the heat and stir in the butter.

Place the cheesecake on a plate, top with apples and nuts, finally drizzle over the caramel sauce.