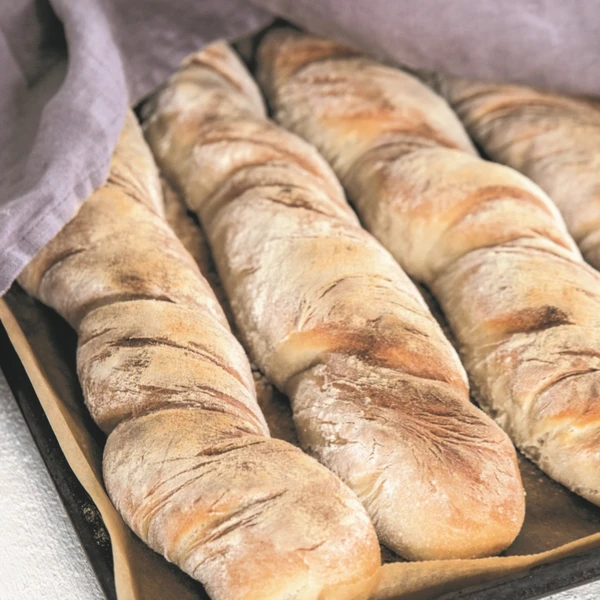 Ingredients
4 Baguettes
500 ml

water

2.25 tps

dry active yeast or 25 g fresh yeast

2 tbsp

olive oil

1 tbsp

salt

5.5 cups

bread flour
Tips
If you want a crunchy crust on the baguettes, spray some water into the oven when you insert the bread. Open the oven door and release the steam after about 5 minutes.
Baguettes
Serve freshly baked baguettes with a good soup. Or, cut a baguette in half, add a tasty filling and you have a quick lunch at home or for your day trip!
Follow these steps

Assemble the Assistent with the stainless steel bowl, dough knife and dough hook.

In a small saucepan, heat the water to 37°C (98°F) if fresh yeast or to 41°C (105°F) if dry yeast.

DRY YEAST: Add the water and yeast to the Assistent bowl and mix on low speed till beginning to combine. Turn off Assistent and let stand until foamy, about 10 minutes. FRESH YEAST: Crumble the yeast into the bowl, add the water and start the Assistent at low speed until the yeast dissolves.

Add olive oil, salt and 1/2 of the flour. Mix on low speed until dough begins to come together. Possibly help the Assistent by pulling a little in the arm a few times. Slowly add remaining flour until 1 cup is left. If dough is too sticky, add a little flour at a time until a soft, but not sticky, dough is achieved.

Increase speed to medium. Set timer for 5 minutes and let knead.

Cover the bowl with the bowl cover and let it rise until doubled in size, 1-2 hours

Turn out the dough onto a floured surface without kneading it.

Divide the dough into four parts, shaping them into baguettes by spinning and pulling out each part. Place them on a baking sheet lined with parchment paper.

Cover the baguettes with a towel and let them rise for 30 minutes.

Preheat oven to 275°C (525°F).

Bake in the middle of the oven about 15 minutes.

Place baguettes on a wire rack to cool.