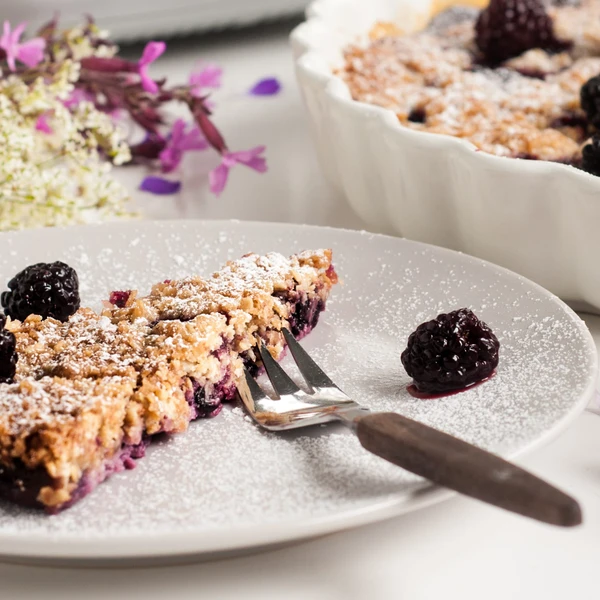 Ingredients
Filling
350 ml

yoghurt, 10% Greek or Turkish

180 gram

sugar

2 st

eggs

1 tsp

vanilla powder

0.5 tsp

salt

250 gram

blackberries
Topping
125 gram

butter or margarine

88 gram

oatmeal

60 gram

flour

90 gram

raw
Blackberry and vanilla pie
A delicious pie with yoghurt-based vanilla bottom, filled with juicy blackberries and topped with crumbly dough.
Follow these steps

Set oven to 200°C (392 F).

Lubricate a pie form, round and 24 cm in dm with butter.

Assemble the assistent with beater bowl and balloon whisks.

whisk yoghurt, sugar, eggs, vanilla and salt together to a smooth batter. Pour into the pie form.

Place the berries on top of the yoghurt mix and bake in the center of the oven for 25 minutes.

Assemble the assistent with the bowl and dough roller.

Make the topping by dividing the butter into smaller pieces and add the remaining ingredients. Work together with the roll until it has become a dough.

Spread the dough over the pie and bake for another 15-20 minutes, until the crumb is golden. Cover with a backing paper if the surface becomes too dark.

Allow to cool and powder with some icing sugar on top.