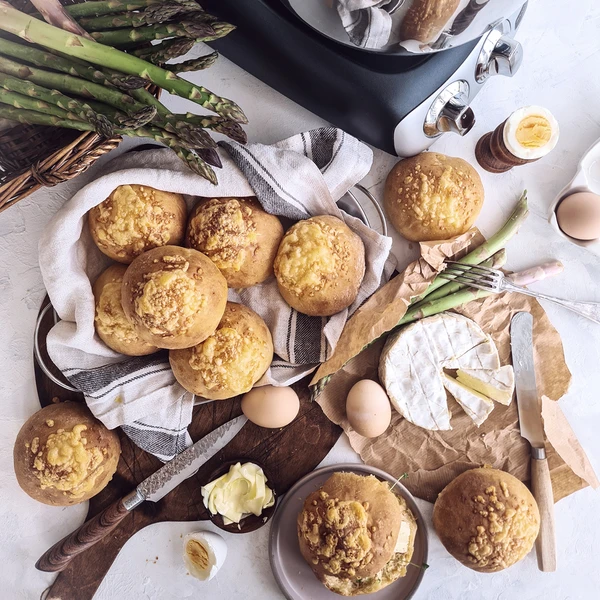 Ingredients
50 g yeast

500 ml water

1 tbsp honey

2 tbsp sambal olek (chili paste)

1 tsp salt

100 ml oil

720-780 g flour (preferably a protein-rich flor, for example Tipo 00.

150 g stored cheese (grated)
Bread buns with cheese
Delicious Bread buns with cheese. Perfect for both breakfast, lunch and dinner.
Follow these steps

Assemble the assistent with bowl, dough roller and dough knife.

Crumble yeast in the bowl and add water, about 37 °C (99 °F).

Add honey oil, sambal olek, and salt.

Start the assistent and add about 480 g of the flour, let the machine work at medium speed for about 8 minutes so that the flour has a chance to swell.

Then add the rest of the flour a little at a time so that you get a smooth dough. Work the dough for about 3-4 minutes on high speed. Switch off and put the bowl cover on the bowl.

Let ferment to double size for about 1 hour.

Set the oven to 250 °C (482 °F)

Turn it upside down onto a table with flour without processing it.

Divide into about 20 pieces and form round dough balls that you place on a baking pan with a baking sheet paper.

Brush some water on top and sprinkle the grated cheese on top.

Let ferment for another 25 minutes and then bake for about 10 -12 minutes.

Let cool and enjoy!