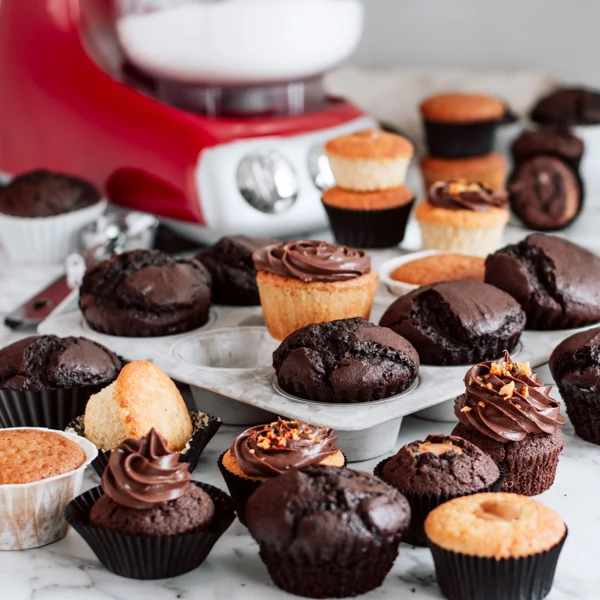 Ingredients
300 g flour

40-80g cocoa (to taste)

2 tsp vanilla sugar

2 tsp baking powder

1 tsp baking soda

1 tsp salt

3 eggs

270 g caster sugar

190 g rapeseed oil

300 ml yoghurt, approx. 10% fat content

100 g light chocolate

100 g dark chocolate
Chocolate muffins
This easy chocolate muffin recipe is incredibly moist and intensely chocolate! The muffin batter is flavored with cocoa powder and chocolate.
Follow these steps

Set the oven to 175°C (347°F) and place 12 large muffin tins in a muffintray, alternatively place extra stable muffins tins on a regular tray.

Sift and mix the dry ingredients.

Beat eggs and sugar together on medium speed until fluffy.

Add oil and yoghurt, beat smooth.

Add the dry ingredients and quickly whisk together to a smooth batter.

Coarsely chop the chocolate, or use chocolate buttons, and set aside about 1 dl.

Fold the rest of the chocolate into the batter.

Divide the batter into the muffin tins, fill almost completely and top with the saved chocolate.

Bake in the lower part of the oven for about 20-25 minutes or until the muffins have stopped and a skewer comes out dry.

Leave to cool completely in the mold.