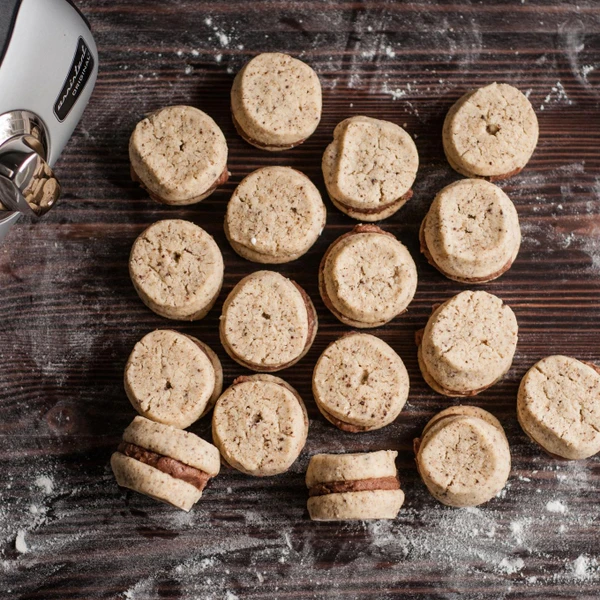 Ingredients
Cookie dough
200 gram

butter

80 gram

sugar

360 gram

flour

90 gram

potato flour

1 tsp

baking powder

2 tbsp

Freeze-dried coffee (ex Nescafé)

0.5 tsp

Vanilla powder
Filling
75 gram

butter

90 gram

icing sugar

0.5 tbsp

cocao

1 tbsp

Coffee, cold

1 tsp

Vanilla Sugar
Cookies with mocha filling
The classic coffee cookies always have filling but these are just as good without.
Follow these steps

Assemble the assistent with the beater bowl and cookie whisks.

Divide the room-temperatured butter into smaller pieces and mix everything in the assistant.

Mold the dough into two rolls (about 25 cm), put plastic around each dough and place in the fridge for 10 minutes. Set the oven to 175 °C ( 347 °F).

Cut 1 cm thick cookies, place on baking sheet paper and press slightly on top of them.

Bake in the center of the oven for about 10 minutes or until they have become colored. Allow to cool completely.

Assemble the assstent again with the beater bowl and the cookie whisks.

Make the filling by whisking together the room-temperature butter with the remaining ingredients. Wide or spread the filling on the underside of half of the cookies and place another cake as a lid.

The classic coffee cakes always have filling with they are just as good without.