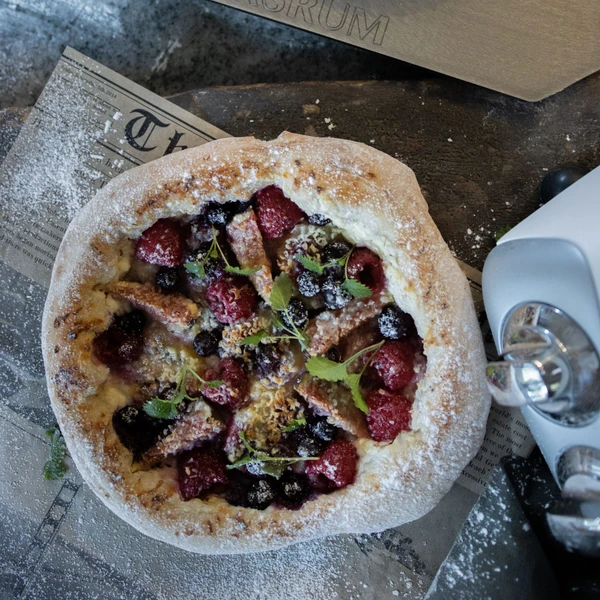 Ingredients
Dough
635 g cold water

30 g salt

4 g yeast

1000 g Tipo 00 flour
Topping
200 g cottage cheese

225 g fresh raspberries

225 g fresh blueberries

2 kiwi

2 figs

1 dl coconut flakes

100 g white chocolate
Decoration
Lemon balm

Icing sugar

Vanilla ice cream
Dessert pizza
A wonderful dessert that is easy to make!
Follow these steps

Assemble the assistent with the bowl, dough roller and dough knife.

Measure out all the ingredients and place in the stainless steel bowl. Work the dough for at least 15 minutes on low to medium speed.

Put the bowl cover on and leave to ferment for 30 minutes. Then fold the dough from edge to edge in the bowl, put on the bowl cover again and leave to rise for another 30 minutes. Repeat this process 3 times.

After folding, leave the dough to rise for 6-9 hours at room temperature.

Place the dough on a richly floured baking sheet. Divide into 4 - 6 parts and shape into pizza balls.. We want to keep the air bubbles.

Place the parts on the floured baking sheet under a baking sheet and let rest for 30-60 minutes.

Set the oven to 250 C (482℉) hot air and place the pizza steel on a rack in the middle of the oven.

Shape the dough into round pizza bases. Do not press on the edges, here we want to keep an airy edge.

Spread on the cream cheese and top with the fruit and berries. Sprinkle with grated coconut and grate over white chocolate.

Bake in the middle of the oven until golden, about 6-8 minutes.

Remove from the oven and sprinkle with a little icing sugar and decorate with lemon balm. Serve with vanilla ice cream.