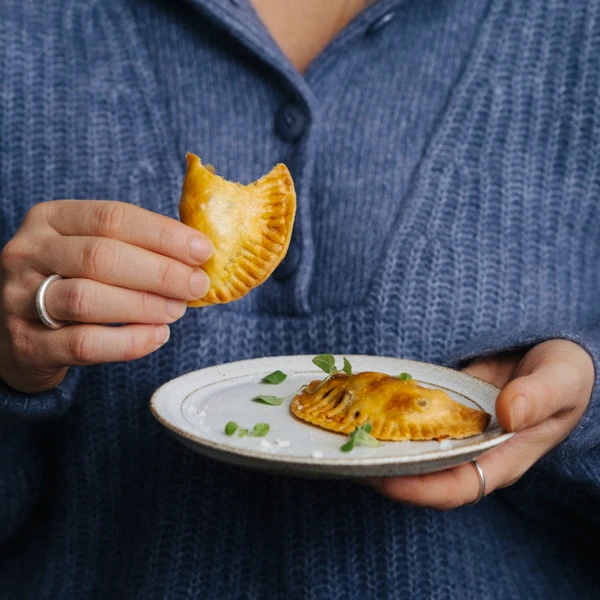 Ingredients
Empanada dough:
360 g wheat flour

75 g of butter

100 ml of milk

1 egg

1 tsp salt

Eggs for brushing
Filling:
100 g minced lamb

100 g feta cheese

1 yellow onion

30 g raisins

30 g black olives (coarsely chopped)

1 tsp cumin

1 tsp paprika powder

salt & pepper
Empanadas
Empanadas with minced lamb, olives, feta cheese and raisins. Like pirogues but with thinner dough and tastier filling. Perfect for that "in between" meal.
Follow these steps - Filling

Peel and chop the onion.

In a medium size skillet, sauté minced meat and onion in olive oil over medium heat.

Season with cumin, paprika, salt and pepper.

Mix with raisins and olives and let cool while you make the pie dough.

Follow these steps - Pie dough

Set the oven to 175°C (347°F)

Mix all the ingredients in the stainless steel bowl with the dough roller and dough knife and work together on medium speed into a smooth dough. Leave to rest in the fridge at least 30 minutes.

Use the lasagna roller to roll out sheets of dough. Cut out 12 rounds and spread the meat filling on one half of each round. Top with crumbled feta cheese.

Fold over into half moons and press the edges together with a fork. If they do not stick together, brush the edge with a little water.

Place them on a baking sheet. Brush with beaten egg.

Bake in the middle of the oven for about 25 minutes. Serve with a dip and crunchy salad.