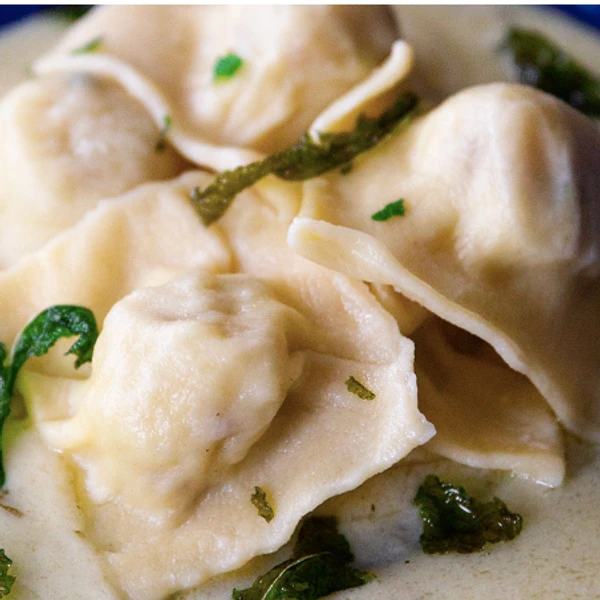 Ingredients
Homemade pasta dough:
290g durum wheat flour

1 tbsp olive oil

150 ml water
Potato filling:
600g golden potatoes

2 onions, finely chopped

100 ml vegan cream, oat or soy cream

1 tbsp fresh sage or 2 tsp dried sage

salt

black pepper
Lemon sauce:
50 g vegan butter

1 tbsp wheat flour

250 ml vegan cream, oat or soy cream

Juice of 1 lemon

½ bunch of sage, finely chopped

salt

black Pepper
Stuffed pasta with potato, onion, and sage
Homemade stuffed pasta with potatoes, onions and sage served with a fantastic lemon sauce.
Follow these steps

Assemble the Ankarsrum Assistent with the stainless steel bowl, dough knife and dough roller.

Add flour, oil and water to bowl and start mixing on low-medium speed for about 10 minutes. The dough will feel crumbly at first, but don´t give up.

Wrap the dough in plastic and let it rest for 30 minutes. It may not feel super smooth at first but give it time to rest. You can let it rest for several hours if you want to prepare ahead.

Potato filling

Boil the potatoes until soft. Let cool.

Fry the onions in a small amount of oil until they soften and caramelized. It should turn a lovely dark color.

Mix potatoes, onion, cream, sage, salt and pepper in a bowl.

Roll out the pasta

To roll out the pasta, attach the lasagna roller onto the assistant. Start with the thickest setting and run the pasta through. Then change the thickness one step at a time and run the pasta until you get the desired thickness. For stuffed pasta, you don´t want it to be too thin, so stop at the second thinnest setting.

Lay out the length of pasta on a work surface.

Spoon about 1 tablespoon of filling onto the pasta with 2-3 cm between each spoonful.

Fold the pasta over and press around the filling to remove any air pockets.

Cut out the pillows with a knife or cutter. Transfer to a well-floured plate.

Cook the pasta in lightly salted water for about 3 minutes.

Lemon sauce

Melt the butter in a saucepan.

Whisk in the flour and let it bubble for 1 minute.

Gradually whisk in the cream until you have a smooth sauce without lumps. Let it simmer for a few minutes until the sauce thickens.

Season the sauce with lemon juice, sage, salt and pepper.

Plating

Spread a little sauce on a plate. Place a few stuffed pasta pillows on top. Garnish with fresh sage.