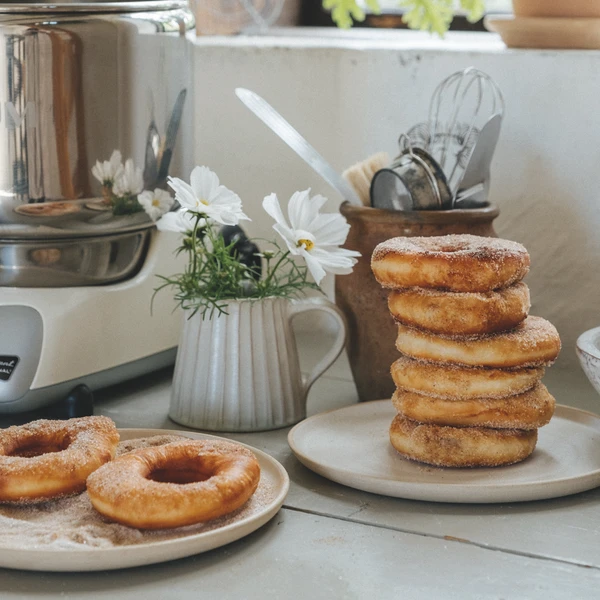 Ingredients
Dough
20 g yeast

50 g butter

200 ml milk

70 g sugar

1 egg

½ tsp salt

½ lemon (zest)

390-420 g wheat flour
Frying
1l rapeseed oil

Sugar

Cinnamon
Homemade donuts
We love homemade donuts! Vary with your favorite toppings.
Follow these steps

Assemble the assistent with bowl, dough roller and dough knife

Crumble the yeast into the bowl. Melt the butter in a saucepan and add the milk.

Heat to a maximum of 37°C (98℉) and pour it over the yeast in the bowl.

Add sugar, salt, egg, lemon and most of the flour. Work the dough smoothly with the dough roller for 10 min. The dough should be sticky but manageable. Turn the dough onto a floured surface and roll out to about 1 cm thick dough. Cut out round shapes in donut size with a glass or small bowl and then a smaller hole in the middle. Leave to ferment under a kitchen towel for 2-3 h.

Heat the oil in a pan to 175°C (347 °F) and fry the donuts for 1 minute on each side. Allow to drain on a piece of paper then toss in sugar and cinnamon mixture while still warm.

Time to enjoy!