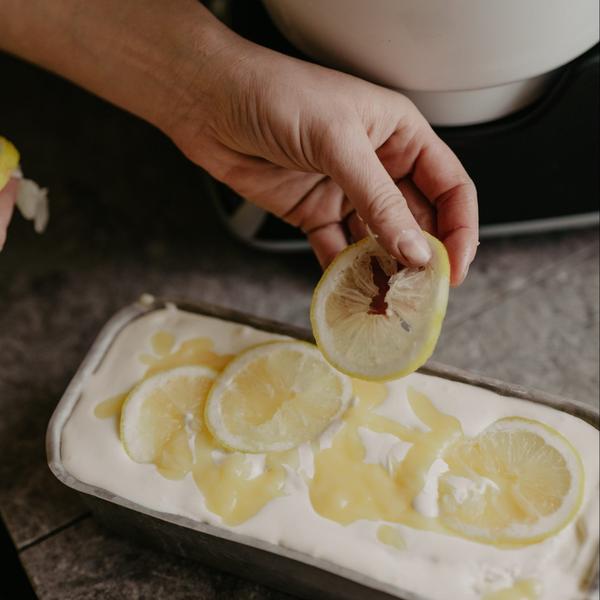 Ingredients
Lemon curd
2 egg yolks

1 egg

200 g sugar

2 lemons

100 g butter
Ice cream
600 ml heavy cream

175 ml condensed milk
Ice cream with lemon curd
Enjoy a refreshing scoop of tangy lemon curd ice cream! This simple recipe is perfect for summer days. With the assistance of an ice cream maker, you can quickly and effortlessly create a smooth and creamy ice cream with a delightful lemon flavor.
Follow these steps - Lemon curd

Begin by grading the zest from the lemons.

Attach the citrus press to your Ankarsrum stand mixer

Squeeze the juice from the lemons using the citrus press.

In a mixing bowl, combine the egg yolks, whole eggs and sugar.

Set up a double boiler and gently heat the egg mixture along with the lemon juice and zest.

Stir continuously until the mixture thickens and archives a creamy consistency.

Remove the mixture from the heat and add the butter. Stir until the butter is completely dissolved.

Allow the lemon curd too cool down entirely.

Follow these steps - Ice cream

Before use: Place the freezer bowl in the freezer for 24 hours.

Mix the cream, condensed milk and about 1 grams of the lemon curd.

Start the mixer on low speed and slowly pour the mixture through the opening in the lid.

Let the machine run for about 20 minutes, then add more lemon curd.

Freeze for at least 30 minutes.

Take out of the freezer 5 minutes before serving.