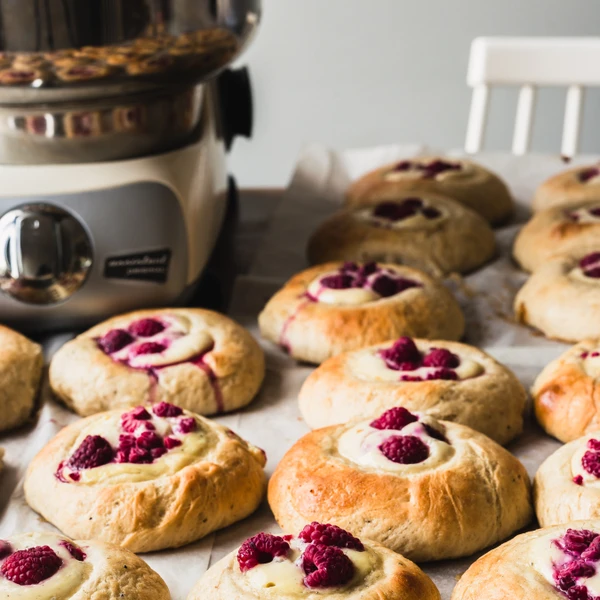 Ingredients
Dough
1800 ml oat milk

150 g yeast

400 g sugar

3 tbsp ground cardamom

4 tsp salt

2500 g flour (+ more if needed)

350 g dairy-free soft butter / margarine
Filling
800 g dairy-free quark (Alpro go on or Greek style vanilla works best)

100 g sugar

1 tsp vanilla bean powder (if you are not using vanilla flavored quark)

800 g raspberries (frozen or fresh)

about 300 ml maple syrup for brushing the buns
Raspberry Buns
Why make regular buns when you can make raspberry buns? Make up to 100 buns at the same time in Ankarsrum.
Follow these steps

Assemble the Ankarsrum assistent with steel bowl, dough hook and dough knife.

Warm oat milk until it's about 40 °C (104 °F).

Pour it in the bowl.

Crumble all the yeast in the bowl.

Start the machine on low speed.

Add cardamom, salt and sugar and mix the ingredients together.

Start adding flour little by little.

When you've added about ¾ of the flour, add the melted butter.

Keep the machine on low-medium speed and add the rest of the flour.

Push the arm back and forth to help with the kneading. You don't need to lock the arm.

Set timer for 10 minutes

Divide the dough in three pieces. Leave one part in the Ankarsrum bowl and cover it. Move the other two parts into other bowls and cover them.

Let dough rise in a warm place for 45 – 60 minutes.

Turn one dough at a time onto a floured surface and divide into three parts.

Shape each part into a roll and divide into small pieces. Roll each piece into a ball and place on a baking sheet lined with parchment paper. I baked 9 big buns at a time but you can also make small buns.

Cover and let the buns rise for 15 minutes.

Mix dairy-free quark and sugar for the filling.

Preheat oven to 200 °C (392 °F).

Pour flour on top of a plate, dip the bottom of a small drinking glass into the flour and press a round center into each bun.

Fill the center with 2-3 raspberries and 1-2 tbsp of quark-sugar mixture. You can also press one or two raspberries on the top.

Brush buns with maple syrup.

Bake in the oven for 15 minutes or until buns are golden brown and feel firm.

Repeat phases 14-21 until you've baked all buns.