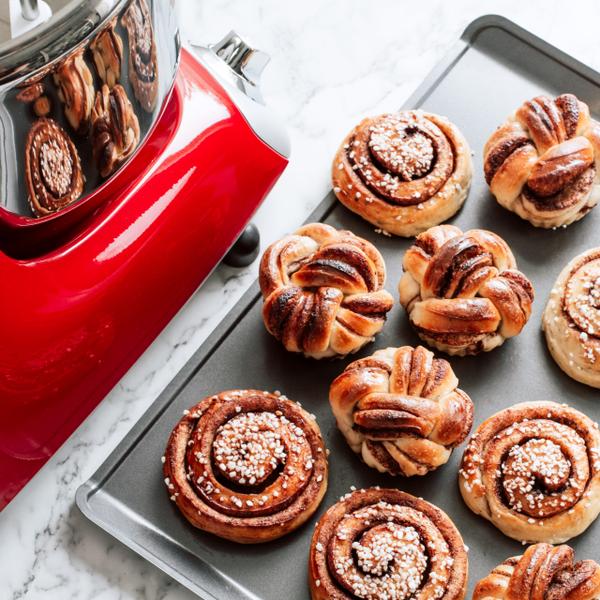 Ingredients
Wheat dough:
200 g of butter

25 g of fresh yeast

200 ml milk or water

360 g wheat flour

3 tbsp caster sugar

½ tsp cardamom, freshly ground

1 tsp salt
Filling
100 g of butter

45 g sugar

1 tbsp cinnamon
Topping
1 egg

1 tbsp granulated sugar
Syrup
90 g caster sugar

100 ml water
Rimbo buns with cinnamon
Recipe for really tasty and moist Rimbo buns that only need to rise once.
Follow these steps:

Bring butter to room temperature, both for the dough and filing.

Filling:

Whisk together the ingredients for the filling until it is smooth and spreadable.

Wheat dough:

Assemble the assistant with dough roller and dough knife.

Crumble the yeast into the bowl and add cold milk or water. Stir so that the yeast dissolves completely.

Cut soft butter into small pieces and add together with sugar, flour and cardamom.

Work on medium speed until all the butter is distributed and you have a smooth dough that comes away from the edges of the bowl, about 10 min.

Add salt and mix together.

Baking:

Place forms on trays.

Turn dough out onto a clean work surface and roll it into a rectangle, approximately 30 x 40 cm.

Spread filling evenly over the entire dough plate.

Roll up lengthwise and cut approximately 2 cm wide pieces and place with the cut surface facing up in the bun forms.

Cover the buns and let rise for two hours.

Set the oven to 250 °C/482 °F.

Syrup:

Combine water and sugar in a small saucepan and cooked over medium-low heat until sugar is dissolved. Set aside until ready to use.

Brushing:

Brush the buns with milk or beaten egg, sprinkle with granulated sugar.

Baking:

Bake the buns in the middle of the oven for 6-8 minutes, the buns should have just turned color.

Brush immediately with syrup and transfer to a wire rack to cool.

If you freeze the buns, they should be thawed slowly at room temperature.