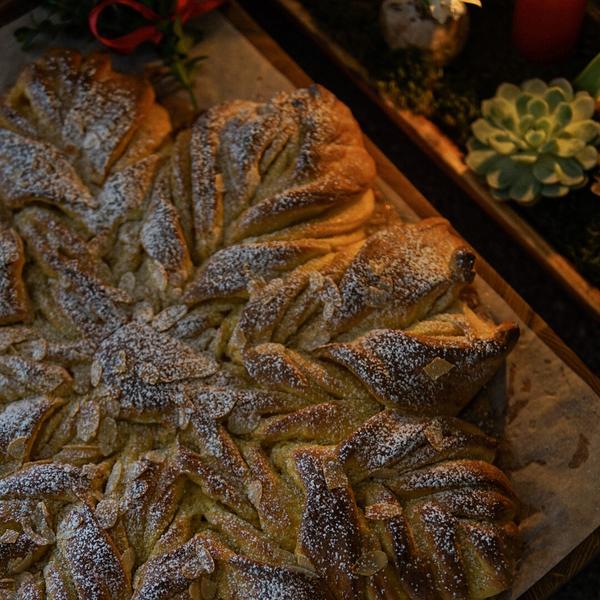 Ingredients
150g butter

400 ml milk

0,5g saffron

50g fresh yeast

½ tsp salt

100 g caster sugar

1 tsp cardamom, freshly ground

660g wheat flour
Filling:
125g butter, room temperature

100g caster sugar

1 tsp vanilla sugar

Milk, for brushing on dough before baking

Sliced almonds, for decoration

Icing Sugar, for decoration
Star bread with saffron
A magical star brad with saffron, perfect when you want to serve something special to your guest this christmas.
Follow these steps:

Heat the butter and milk in a medium size saucepan over medium-low heat until 37 ° C (99 F). Add the saffron.

Assemble the assistent with stainless steel bowl, dough roller and dough knife. Add the yeast and then some of the warm butter mixture, mix on low speed until the yeast dissolves. Add the rest of the butter mixture, salt, sugar, and cardamom.

Add a little flour at a time, on medium-low speed. Then add more flour until you get a smooth dough. Knead the dough for about 10-12 minutes. Leave to rise for about 30-40 minutes with the bowl cover on the bowl.

Mix the filling together.

Divide the dough into 3 equal pieces and roll them out to circles. Add half the filling to one of the circles, then top with another circle of dough. Add the rest of the filling and finish with the last dough circle.

Trace a circle 15 cm in diameter in the middle of the circles. Cut 16 even strips starting from the edge of the small circle in the middle and going all the way out to the edge of the large circle of dough. Grab two strips and twist them away from each other, then press the two ends together. The star bread should have 8 points. Cover and let rise for 30 minutes.

Brush with milk and garnish with sliced almonds. Bake at 225 ° C (435 F) for about 15-18 minutes. Garnish with icing sugar before serving.