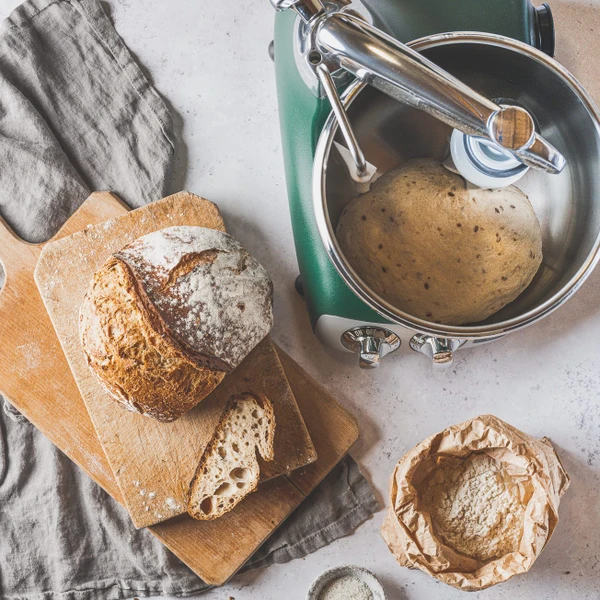 Ingredients
3 g dry yeast

19 g dry sourdough preparation

300 g water (approx. 20 °C)

450 g flour (Italy: tipo 1, France: T65-80)

1 tbsp honey (optional)

10 g salt

1 tbsp white sesame seeds (optional)

1 tbsp flaxseeds (optional)
Sourdough bread
A delicious sourdough bread!
Follow these steps

Assemble the assistent with the bowl, dough roller and dough knife.

Pour the water into the Assistent.

Turn on the Assistent on low speed and add the dry yeast mixed with the dry sourdough preparation and let it run until its dissolved in the water.

Add flour and honey and let the Assistant run on slow speed and set the timer on 10 minutes.

Add the salt and let it continue on slow speed for 5 minutes.

Turn off the Assistant and cover the bowl with the lid, let the dough rest for 90 minutes – 2 hours.

Use the scraper and fold the dough inwards from the sides a few times and cover again with the lid, let it rest for another 90 minutes – 2 hours.

Lightly flour a table and shape the dough to a round bowl, place it on a baking sheet with flour and cover it and let it proof for 60 min.

Turn on the oven, 220 °C.

Alt. 1. for a crispy crust you can use a Dutch-oven or a cocotte to bake the bread in, for this alternative: warm up the cocotte/Dutch oven in the oven for 30 minutes with the lid on. Then put the dough (on a floured baking paper in the cocotte/Dutch oven, sprinkle some flour and cut/score the bread if you want), put the lid on and bake for around 25 min, remove the lid and bake for another 10-15 minutes (until the bread had a golden brown color.

Alt.2. Bake the bread on a baking tray in the middle of the oven for about 45 minutes (or until the bread has a golden brown color.

Optional : for more developed taste you can let the dough rest overnight (covered) after step 7 and then continue from step 8 when you have taken it out from the refrigerator.