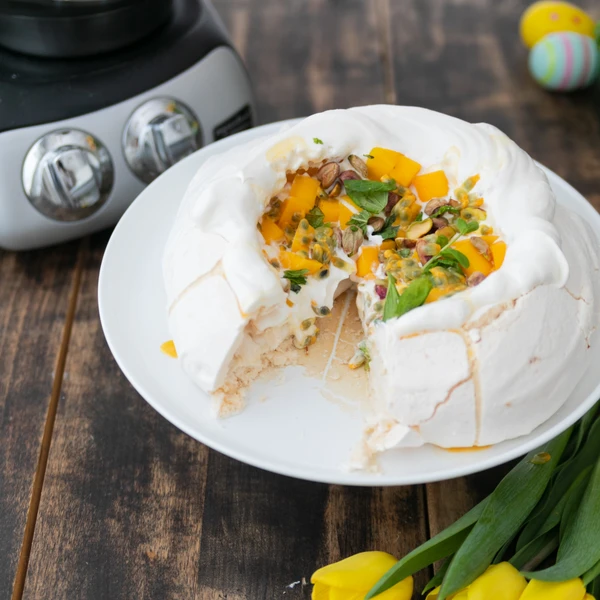 Ingredients
approx. 1.5 dl of chickpea broth (broth from one jar of chickpeas)

1 teaspoon apple cider vinegar

1.2 dl of sugar

1 tablespoon of cornstarch

½ tsp xanthan

½ organic lemon peel
Passion foam:
1 dl soy/oat cream

0.5 dl Alpro greek style vanilla

1 tablespoon of sugar

2 passion fruits
To serve
fresh mango

pistachios

fresh mint

passion fruit
Vegan mango-passion pavlova
A perfect dessert for Easter!
Follow these steps

Heat the oven to 100 degrees. Prepare baking paper on a baking sheet.

Strain the chickpeas and save the broth. Pour the broth and vinegar into the bowl of Ankarsrum food processor. Beat at full power until the foam turns white.

Mix the cornstarch and xanthan into the sugar and while the machine is running, pour the sugar mixture in little by little. Grate the lemon zest in. Beat the meringue for at least 10 minutes. The foam should be really firm and a bit gum-like, and it won't drip out of the bowl even if you turn it upside down.

Spoon the meringue onto the baking sheet immediately, as waiting may soften it. Form a circle approx. 3 cm high (note that the vegan meringue spreads and rises a few centimeters in the oven. However, you should not make the meringue very high, instead you can make two smaller meringues and assemble them with the filling into a tower). Put meringue into the oven and leave e.g. a wooden ladle between the door so that the steam can escape. If your oven has a steam vent, there is no need to keep the door open.

Bake the meringue in the oven for approx. 2.5-3 hours. Halfway through, you can lift the meringue with the baking paper from the tray onto the oven rack so that it dries well on the bottom as well. However, handle with care, as the meringue crumbles easily.When the meringue comes off the baking paper easily and the base is dry and not sticky, turn off the oven and leave the meringue in the residual heat with the oven door little bit open for about a couple of hours or overnight.

Make the filling just before serving: Beat the cream until stiff in a Ankarsrum food processor and add yogurt and sugar, mix well. Split the passion fruit and spoon the inside into the cream. Stir with a spoon.

Peel and chop the mango and peel the pistachios. You can mince the pistachios with knife if you want. Just before serving, spoon the passion fruit cream over the meringue and add the mango pieces, pistachios and mint leaves. Spoon more passion fruit on top. Serve immediately as the fillings will soften the pavlova (the center of the pavlova sank a little due to the weight of the fillings, so it's okay if that happens 🙂).