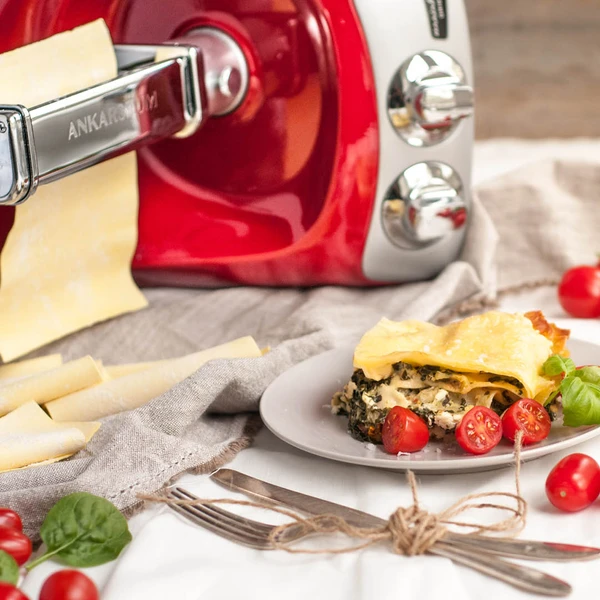 Ingredients
Ingrediencies
1 st

yellow onion

2 st

garlic

2 tablespoon

olive oil

300 gram

spinach

6 st

sun-dried tomatoes

3 st

mozzarella, à 125 g

125 gram

feta

100 ml

cream

100 ml

milk

150 gram

cheese

15 st

cherry tomatoes

salt and pepper
Vegetarian lasagna
Make your own vegetarian lasagna together with your Ankarsrum.
Follow these steps

Do the pasta dough and run it in the roller until you are satisfied with the thickness.

Chop the onion and fry in half of the oil along with pressed garlic and coarsely chopped sun-dried tomatoes.

Add the spinach, stir and stir the spinach smoothly. Set the frying pan aside.

Put the oven at 200 °C (392 f).

Lubricate an oven mold with the remaining oil.

Chop the mozzarella and feta cheese and mix with the spinach in the frying pan.

Assemble you assistent with whisk bowl and balloon whisks.

Mix the cream and milk and stir in half in the frying pan, season with salt and pepper and grate the cheese.

Place a layer of spinach in the bottom of the oven mold, add tomatoes and then lasagna plates.

Repeat until you have a layer of pasta at the top.

Spread the cheese evenly over the pasta and pour over the last of the cream and milk.

Bake in the middle of the oven, 15-40 minutes depending on the thickness of the lasagna plates

If necessary, move down one step if the surface becomes too dark.

When the pasta is soft, the lasagna is ready.