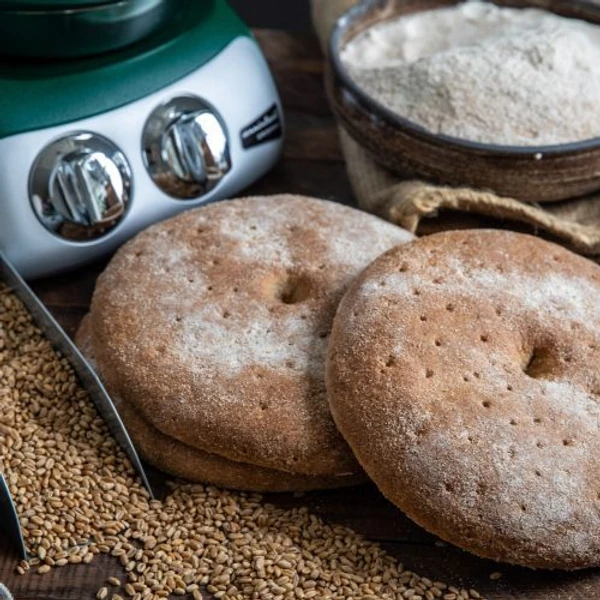 Ingredients
50 g

yeast

500 ml

water

2 tbsp

honey

2 tbsp

olive oil

2 tsp

salt

720 g

milled wheat
Bread with fresh grinded flour
Recipe together with Fredriksfika. Bread with flour that you grind yourself in Ankarsrum's Grain Mill. Grinding your own flour gives a lot of flavor and a lovely character to the bread.
Follow these steps

Grind the wheat grains in Ankarsrum Grain mill with the finest setting.

Assemble the assistent with steel bowl, dough roller and dough knife.

Add the yeast and add the water.

Add honey, olive oil, salt and flour.

Set timer for 8 minutes.

Add bowl cover and let the dough rise for 30 minutes.

Place the dough on a lightly floured baking table. Divide the dough into four equal parts.

Shape round breads about 20 cm in diameter.

Make a hole in the middle, sprinkle with some flour and notch the loaves. Cover and allow to ferment for 30 minutes.

Set oven to 225 °C (437 °F).

Bake the bread in the middle of the oven for about 12-15 minutes.

Let cool.