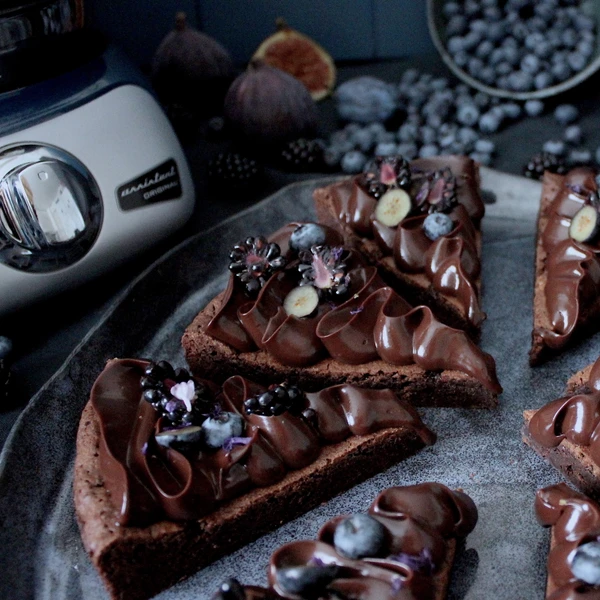 Ingredients
Brownie
150 gram

butter

160 gram

light muscovado sugar

90 gram

powdered sugar

2 st

large eggs

90 gram

Wheat flour

3 gram

fling salt

60 gram

cocoa

1 tsp

baking powder

1 tsp

vanilla sugar
Chocolate ganache
300 gram

chopped dark chocolate

400 gram

cream (40%)

1 tbsp

honey
Garnish: Fresh berries by season
Brownie with dark chocolate ganache topped with blueberries
Beautiful brownie with a dark chocolate ganache. A real dream for us chocolate lovers. Serve with sour berries and a click of cream, guaranteed success! Garnish with a little flake salt, so tasty!
Follow these steps

Melt the butter in a saucepan and allow to cool.

Put the oven to 160 °C (320 °F) hot air and cover the bottom of a baking pan with baking paper.

Assemble the assistant with the beater bowl and balloon whisks.

Mix butter, sugar and eggs in a bowl. It does not need to be whispered just stirred. Add the dry ingredients in the egg mixture and stir until smooth.

Pour the batter into the baking pan and bake in the middle of the oven for about 22 minutes. It should feel a little loose in the middle

Allow to cool in the baking pan and then refrigerate for about 2 hours, or overnight.

Chop the chocolate and place in a bowl, boil the cream. Pour cream and honey over the chocolate, stir with a spatula until you have a smooth ganache. Do it the day before and leave in room temperature overnight, don´t put it in the fridge.

Cut your brownie into 8-10 pieces and place on a platter.

Choose a favorite tulle and put in a piping bag. If you don't have a tulle then cut off the top of the piping bag with an oblique cut.

Spread out ganache over each piece in any pattern, garnish with fresh berries.