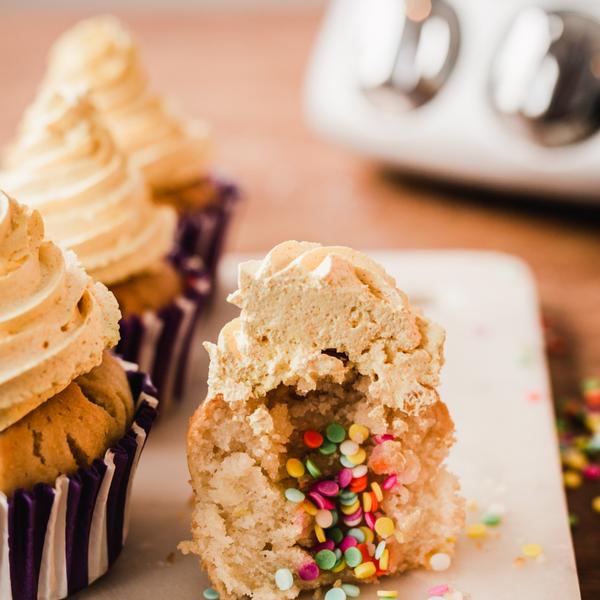 Ingredients
200 g flour

150 g sugar

40 g almond meal

2 tsp baking powder

1 tsp lemon zest

0,5 tsp salt

300 ml milk

2 tbsp lemon juice

100 ml oil or melted vegan butter
Frosting:
250 ml vegan cream which can be whipped

100 g powdered sugar

2 tbsp lemon juice

1 tsp turmeric powder or yellow coloring if you don't like the flavor of turmeric
Filling:
Easter Lemon Cupcakes
Delicious and easy to make with our beater bowl and balloon whisks.
Follow these steps

Preheat oven to 190 C / 375 F.

Place 9 cupcake forms into a cupcake pan.

Assemble the Ankarsrum assistent with the beater bowl and balloon whisks.

Add flour to the bowl and start the machine on low speed.

Add sugar, almond meal, baking powder, lemon zest and salt and continue mixing on low speed.

Pour the plant-based milk, lemon juice and oil to the bowl and continue mixing until everything is smooth.

Pour the batter from the Ankarsrum bowl into the cupcake forms. Clean the bowl and whisks.

Bake in the oven for 25-30 minutes or until toothpick test comes out clean and the cupcake is firm.

Let the cupcakes cool in the pan for 15 minutes and then remove to a cooling rack to cool completely.

While the cake is in the oven, mix the frosting ingredients in the Ankarsrum beater bowl with balloon whisks.

Pour cream into the bowl and start the machine on low-medium speed.

Add the powdered sugar and lemon juice to the bowl and whisk in the assistent until fully combined. Increase speed until you have the right fluffy consistency.

Remove a small piece of cupcake from the center and fill it with sprinkles. Put the cupcake piece back on top.

Pipe the frosting on top of each cupcake.

Store the cupcakes well covered in the refrigerator for up to 3 days.