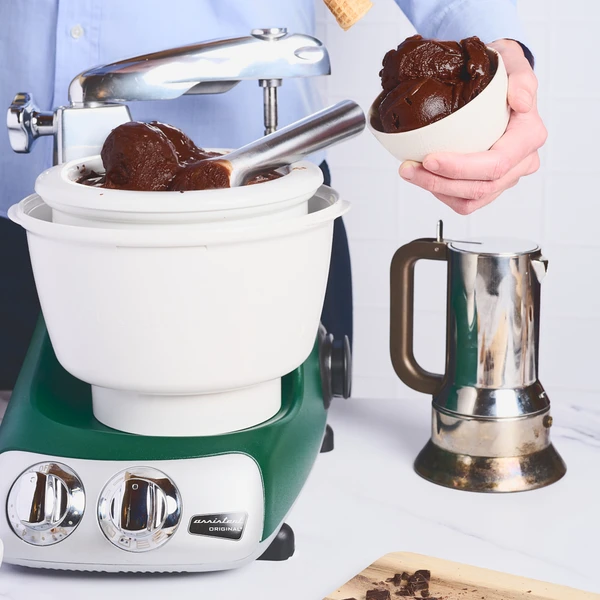 Ingredients
480 ml water

40 g cocoa powder

150 g sugar

200 g dark chocolate (70%-80% cocoa)

20 ml espresso

Optional: ice cubes to cool down the mixture faster
Espresso sorbet
Yes, you can make delicious sorbet with the taste of Espresso. Believe us, this is a true favorite.
Follow these steps

Make sure to put the ice cream container in the freezer for about 20-24 hours before you will use it.

In a saucepan, bring water, sugar, and cocoa powder to boil. Remove it from the stove.

Add the dark chocolate (cut in pieces) and stir.

Add the espresso and stir.

Put back the saucepan on the stove and bring the mix to boil for 2-3 minutes and remove it from the heat.

To make the ice cream process faster, you can put ice cubes in a bigger bowl and put another smaller bowl inside it where you will pour the mix so it will cool faster.

If you used ice cubes and the mix is cold you can continue to make the ice cream (if its not entirely cold put it in the refrigerator too cool it down. It should be refrigerator cold). Otherwise put it in the refrigerator for a few hours until its cold.

Attach the ice cream attachment to the Assistant and insert the cold container.

Start the Assistent so the ice cream container is rotating, slowly pour the mix into it and use the slow speed. Let it run for around 20-30. Pour into a freezer-safe container and put it in the freezer for minimum 1-2 hours.

Remove from freezer 20-30 min before serving.