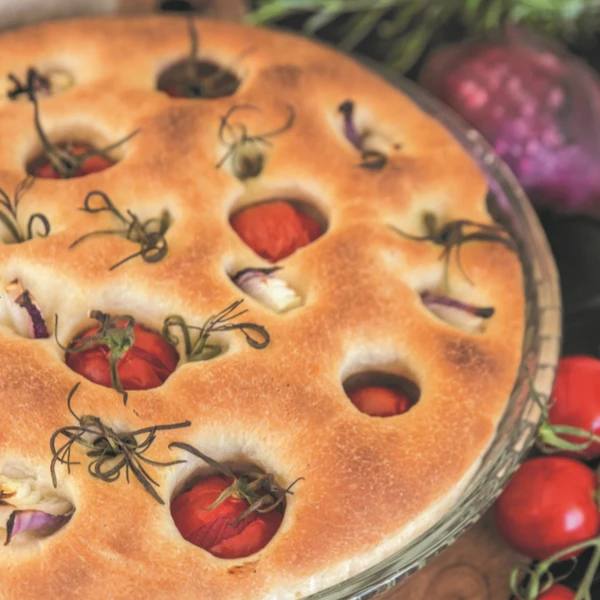 Ingredients
1 Foccacia
25 g

fresh yeast (or 2 1/4 tsp, dry active yeast)

1.75 cup

water (400 ml)

0.25 cup

olive oil (50 ml)

4.5 cups

bread flour

2 tsp

salt
For pan & topping
3 tbsp

olive oil, divided

8

cherry tomatoes

0.5

red onion, thinly sliced

fresh rosemary

flake salt
Tips
Focaccia is a versatile canvas. Try a variety of different toppings: olives, feta cheese, thyme, sun-dried tomatoes, rosemary, grapes.
Focaccia
Some cold cuts, some good cheeses and olives together with a freshly baked focaccia – voilà, dinner is served.
Follow these steps

Assemble the Assistent with the stainless steel bowl, dough knife and dough roller

In a small saucepan, heat the water to 37°C (98°F) if fresh yeast or to 41°C (105°F) if dry yeast. Dry yeast: Add the water and yeast to the Assistent bowl and mix on low speed till beginning to combine. Turn off the Assistent and let stand until foamy, about 10 minutes. Fresh yeast: Crumble the yeast into the bowl, add the water and start the Assistent with the dough roller right next to the edge at low speed until the yeast dissolves.

Add the oil, flour and salt. Mix on low speed, pulling the arm towards the middle as needed to help incorporate ingredients.

Increase to medium speed and lock the arm in place 1 inch (2-4 cm) from side of bowl. Set timer for 5 minutes and let knead.

Cover the bowl with the bowl cover and let the dough rise for 40 minutes.

Brush a half-sheet pan with 1 tbsp. olive oil.

Put the risen dough directly onto the pan and flatten it with floured hands.

Let rise until doubled in size, about 30 minutes.

Preheat the oven to 225°C (435°F).

Make holes in the dough with your fingers and press tomatoes, onion and rosemary into the holes. Drizzle with remaining 2 tbsp. olive oil and sprinkle with a little flake salt. Bake in the middle of the oven for 25 minutes.

Let bread cool on a wire rack.