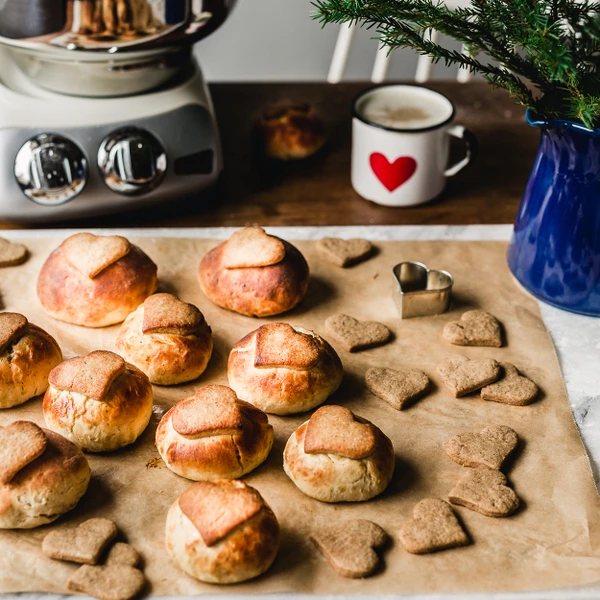 Ingredients
Cardamom buns
125 gram

dairy-free butter

500 ml

Oat drink (thick oat drink for coffee is the best)

125 gram

castor sugar

11 gram

dry yeast

2 tsp

ground cardamom

2 tsp

salt

750 gram

fine wheat flour
Gingerbread cookies
100 gram

dairy-free butter

70 gram

brown sugar

1.5 tsp

baking powder

1.5 tsp

gingerbread spices

1 tsp

ground cardamom

0.5 tsp

salt

195 gram

flour

100 ml

oat-based cooking cream (not flavored)

Powdered sugar for the buns
Gingerbread cardamom buns
Gingerbread cardamom buns are the perfect comforting treat for holiday season, and they are very easy to make with Ankarsrum Assistent.
Follow these steps

Cardamom buns

Melt vegan butter and let cool.

Warm oat milk to 42 C and pour it into the Ankarsrum bowl.

Add sugar and mix it with low-medium on the Ankarsrum Assistent.

Sprinkle dry yeast on the top and let set for a few minutes.

Add cardamom, salt and flour little by little while mixing on low-medium.

Pour melted butter in the very end and knead the dough in the Ankarsrum low-medium for 10 minutes.

Cover the bowl and let dough rise in a warm place for 1 hour.

Place dough on a well-floured surface, add more flour if dough feels too sticky. Roll the dough into small balls. Depending on the size, you will have 15-20 small buns.

Place buns on a baking sheet, cover and let rise for about 15 minutes.

Optional: brush buns with maple syrup to get a lovely golden brown color.

Bake in the oven for about 2-3 minutes.

Place a gingerbread cookie heart on top gently pressing it and bake for another 2-3 minutes or until bun and cookie has a lovely golden brown color.

Gingerbread cookies

Make gingerbread cookie batter when the bun dough is rising.

Whisk dairy-free butter and sugar in the Ankarsrum machine.

Add all dry ingredients while mixing and add the oat cream last. Mix until fully combined.

When the buns are rising, take the cookie batter out of the fridge and roll it into a thin (about 0,5 cm) sheet. Take out small hearts or any shape you like.

Press gently on top of prebaked bun and bake in the oven for about 3 minutes until ready.

Let buns cool for a while and sprinkle powdered sugar on top. Enjoy these wonderful holiday treats!

From this cookie dough you will have extra gingerbread cookies to bake. Bake them in 225 C (437 F) about 5-8 minutes.