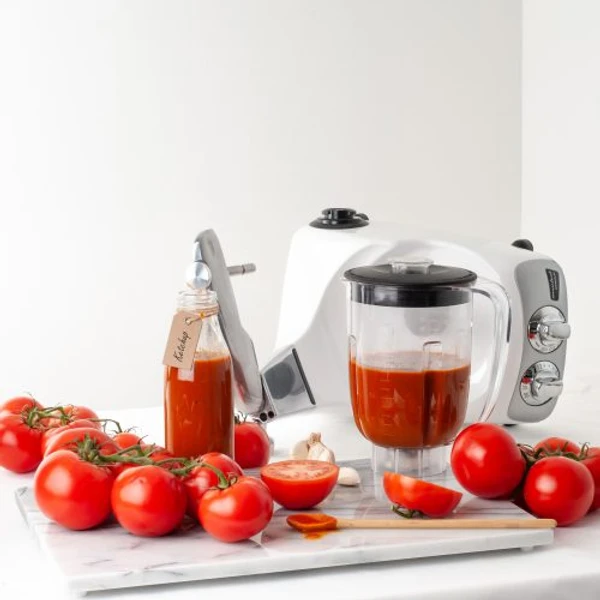 Ingredients
Ketchup about 1½ liters
1

yellow onion

1

celery stalk

2

garlic cloves

2 tbsp

olive oil

800 gram

tomatoes

400 gram

whole tomatoes, jar of liquid

200 ml

water

1 tbsp

Worcestershire sauce

1 tbsp

ginger, ground

1 tbsp

basil, dried

1 tbsp

thyme, dried

0.5 tbsp

coriander, ground

0.5 tbsp

fennel, dried

0.5 tbsp

salt

1 tsp

chili, dried

150 ml

red wine vinegar

80 gram

(80-160 gram) brown sugar
Homemade Ketchup
Homemade Ketchup! Easy to make with the Blender.
Follow these steps

Chop onion, celery and garlic, put in a frying pan and fry until soft in oil on medium heat.

Add Worcesterhorse sauce, ginger, basil, thyme, coriander, chilli, salt and fennel.

Chop the tomatoes and add them. Then add the water. Let simmer for 20 minutes, stirring occasionally.

Assemble the assistant with the blender.

Add the sauce and mix smoothly.

Drain the sauce. Pour into a clean saucepan, add sugar and vinegar. Boil for about 10 minutes.

Taste with salt, sugar and spices.

Pour into bottles, allow to cool and then place in the fridge to thicken.