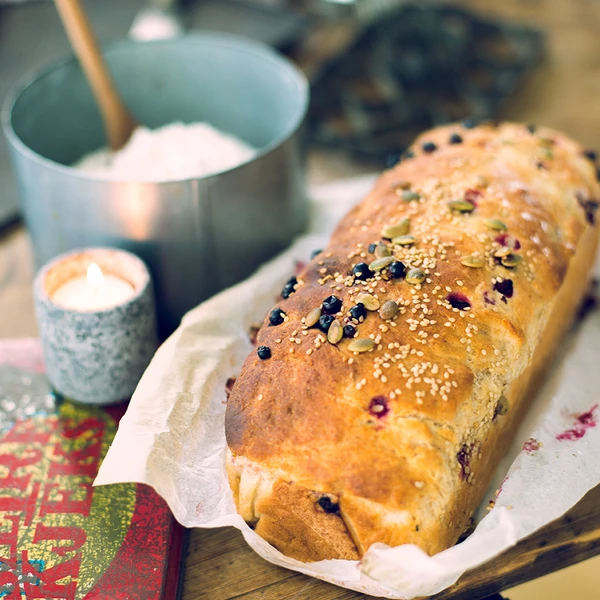 Ingredients
50 gram

fresh yeast

400 ml

sour milk

200 ml

milk

2 tsp

salt

50 ml

neutral oil

50 ml

syrap

100 gram

lingonberries

35 gram

oats

2382 gram

wholemeal flour

540 gram

flour
Garnish with Lingonberries, sesame seeds and pumpkin seeds
Lingonberry bread
Bake this amazing lingonberry bread. Serve it for breakfast or with a warm cup of tea in the evening. Delish!
Follow these steps

Assemble the Assistent with the stainless-steel bowl, dough knife and dough roller.

In a small saucepan, heat the milk to 37°C (98°F)

Crumble the yeast into the bowl, add the milk and start the Assistent with the dough roller right next to the edge, at low speed until the yeast dissolves.

Add sour milk, oil, syrup, lingonberries, oats, salt, wholemeal flour and flour.

Increase speed to medium. Lock arm in place about 1 inch (2-4 cm) from the side of the bowl. Set the timer for 10 minutes and let knead.

Cover the bowl with the bowl cover and let it rise for 45 minutes.

Place a parchment paper in a baking pan.

Work the dough on a floured surface and place in the baking pan.

Let the bread rise for another 30 minutes.

Set oven to 175°C (350°F).

Decorate with lingonberries, sesame and pumpkin seeds.

Bake the bread for 45 minutes.

Let the bread cool down under a baking towel.