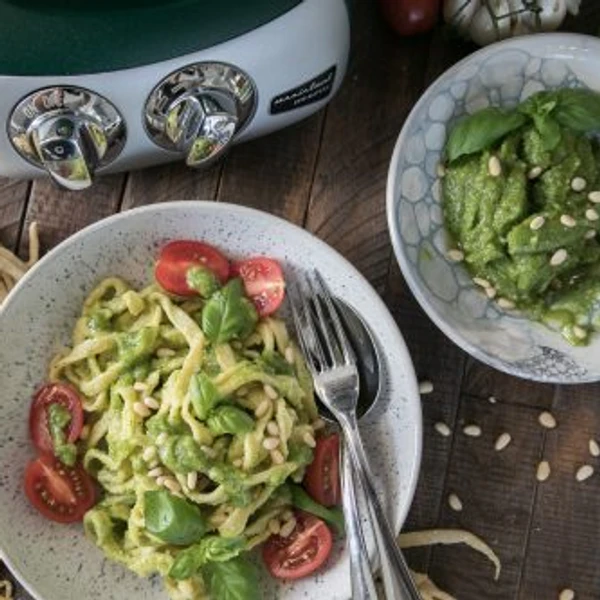 Ingredients
Pasta
See our recipe for pasta dough
75 gram

pine nuts

150 gram

parmesan cheese

1 large bunch basil

100 ml

olive oil

1 clove of garlic

Salt and black pepper
Pasta pesto
Pasta

Turn the Assistent on its side and attach the pasta roller for spaghetti

Divide the pasta dough into small pieces and roll each part into oblong strips about 1/8 inch (4 mm) thick and 5 inches (10 cm) wide. For the best results, use the lasagne roller first and make lasagne sheets.

Start the Assistent at low speed and feed the pasta strips into the spaghetti roller. Let the pasta land on a generously floured surface.

Boil directly or hang up to dry. Cooking time about 2–3 minutes.

Pesto

Turn the Assistent on its side and place the blender on the blender socket.

Add the pine nuts to the blender and mix at medium speed.

Cut the cheese into cubes, add and mix together with the finely chopped nuts.

Add the basil, oil and the garlic clove and run at an average speed until all the ingredients are properly mixed. If possible, use a pulsating effect.