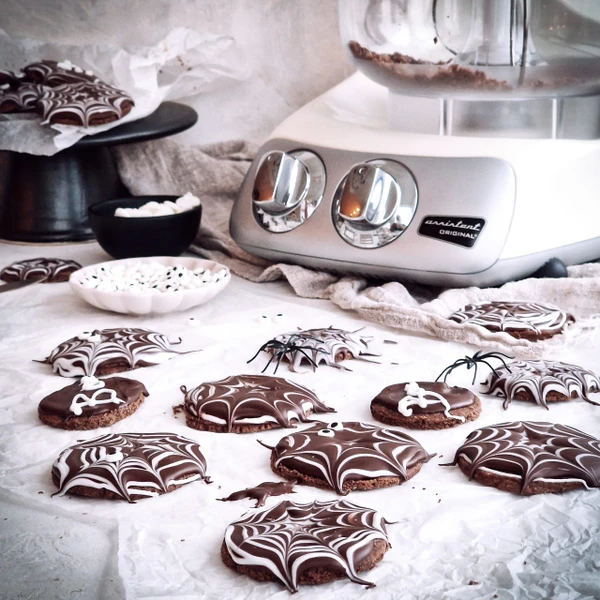 Ingredients
Cookies
180 g wheat flour

45 g icing sugar

2 tbsp cocoa

0.5 tsp salt

125 g room temperature butter

1 tbsp ice cold water
Toppings
200 g dark chocolate

100 g white chocolate
Spider web cookies
Scary spider web cookies that are easy to make and becomes the whole family's favorite. The cookies taste chocolate and looks just like spider webs.
Follow these steps:

Cookies:

Assemble Ankarsrum with the beater bowl and the single wire whisks.

Add all the ingredients except the water.

Start the machine on low speed and continue with medium speed until you get a crumbly dough.

Add the water and whisk the crumbly dough until it forms a smooth dough.

Roll the dough out in between two sheets of parchment paper. About 0.5 cm (0.2 inches) thick. Let the dough rest in the fridge for about 1 hour. You can also prepare the dough and put it in the freezer until you need it.

Set the oven to 175 °C (350°F)

Cut out circles with a cookie cutter or a glass.

Put the cookies on a baking sheet lined with parchment paper or silicone baking mats and bake for about 12 minutes. Let the cookies cool completely before decorating.

Decorating:

Melt the dark and white chocolate separately with a double boiler or in the microwave and transfer the melted chocolate to 2 piping bags.

Cover the cookies with melted dark chocolate.

With the white chocolate, pipe a small dot in the middle of each cookie. Pipe circles around the dot, working from the center all the way out, spacing out evenly.

Gently drag a toothpick through the white chocolate circles, from the center dot to the edge, about every 0.5 cm, to give the appearance of spider webs. If desired, add on candy eyes or candy spiders for an extra spooky look.