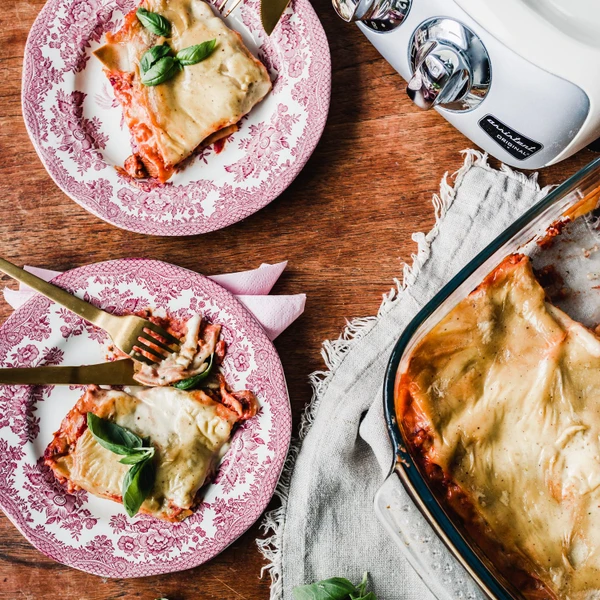 Ingredients
Lasagna sheets
390 g durum flour

200 ml water

3 tbsp olive oil
Marinara sauce
150-200 g smoked tofu (or other marinated tofu)

1 tbsp olive oil

1 onion

2-3 garlic cloves

800 g canned crushed tomatoes

1 tbsp tomato paste

2 tsp Balsamico

2-3 tsp vegetable broth powder

2 tsp onion powder

2 tsp dried basil

2 tsp dried oregano

1 tsp sugar

salt as needed
Vegan "Cheese" Sauce
400 ml oat-based cooking cream or other dairy-free cooking cream

150 g vegan grated cheese

1-2 tsp vegetable broth powder

2 tsp corn starch

For serving: fresh basil
Vegan Lasagna
A new favorite! Here is a recipe for a Vegan lasagna.
Follow these steps - Lasagna Sheets

Assemble the Assistent with the stainless steel bowl, dough knife and dough roller

Add all the flour into the bowl and start the Assistent at low speed. Add water slowly to the bowl.

Add the oil and pull the arm towards the centre of the bowl as needed, to help incorporate the ingredients. Lock the arm 1 inch from the side of the bowl when the dough comes together. Set the timer for 5 minutes and let knead.

Place the dough on a floured baking surface and knead for a short time.

Cover and let rest in the refrigerator for 30 minutes.

Assemble the Ankarsrum Lasagna Roller.

Divide the pasta dough into 6-8 parts.

Start with 0 and roll a piece of dough through the roller. Flour the dough in between rolling for best results

Increase to 2,3 and then to 4 and roll until the desired thickness is reached.

Place lasagna sheet on a well floured surface and repeat until all dough is used.

This dough makes enough lasagna sheets for 2 lasagnas or you can also make other types of pasta with this dough. Store the leftover dough in the refrigerator well covered in cling film up to 2 days.

Follow these steps - Sauces

Preheat the oven to 200 °C ( 392 °F)

Press the tofu dry and crumble it into tiny pieces.

Dice onion and garlic.

Heat oil in a pan and cook the onion and garlic. Add the crumbled tofu and cook until the tofu starts to brown a little.

Add tomatoes, tomato paste, Balsamico and other spices and let simmer on low heat under a lid for at least 15 minutes.

Cook the vegan cheese sauce ingredients in a saucepan until you have a thick creamy sauce.

To assemble the lasagna:

Add first the marinara layer, then lasagna sheets, then the vegan cheese sauce. Repeat until you have finished all the ingredients and the cheese sauce is the last layer.

Cook in the oven for about 30-35 minutes or until the cheese layer gets golden.

Enjoy with fresh basil!