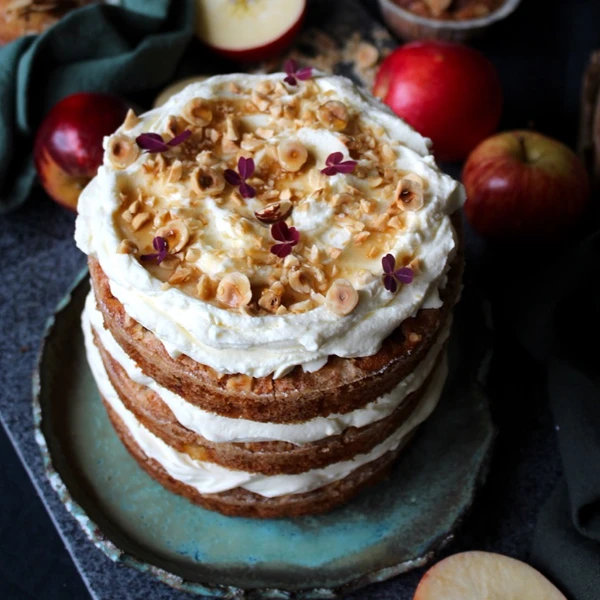 ingredienti
Cake
150 gram

room temperature butter

180 gram

granulated sugar

3 st

eggs

180 gram

flour

1.5 tsp

baking powder

1 ml

salt

1 tbsp

cinnamon

1 tsp

milled cardamom

0.5 tsp

milled ginger

50 ml

milk

2 tbsp

butter for the pie plates

45 gram

granulated sugar for the pie plates
Filling
5 st

red apples

45 gram

granulated sugar

2 tbsp

cinnamon

1 tbsp

vanilla sugar

2 tsp

milled cardamom
Topping
250 gram

mascarpone

200 ml

cream

60 gram

icing sugar

0.5 st

lemon, juice
Garnish
65 gram

chopped hazelnuts

3 tbsp

maple syrup
Apple cake with mascarpone cream and hazelnuts
A beautiful autumn cake made of red apples, hazelnuts and a smooth mascarpone cream.
Follow these steps

Slice the apples in thin slices with the shell on, place in a bowl and sprinkle with sugar, cinnamon, vanilla sugar and cardamom. Mix around and set aside, allow the apples to marinate for a while.

Lubricate three small pie plates (12-15cm) or one large with sugar. Set the oven to 175 °C (347 °F), hot air.

Assemble the Assistent with beater bowl and balloon whisks

Whisk room temperature butter with sugar until it is fluffy and white. Add one egg at a time and whisk together.

Mix the flour with the baking powder and all the spices in a separate bowl. Gently turn the flour mixture into the batter. Add the milk and whisk to a smooth batter.

Divide the batter into the small pie plates and press down the apple slices in any pattern. Sprinkle with chopped hazelnuts and bake in the middle of the oven for 35-40 minutes. Allow the bottoms to cool before assembly.

Assemble your Assistent again with beater bowl and balloon whisks.

Whisk together all the ingredients into the mascarpone cream, the texture should be creamy rather than too firm. Add lemon juice after your own taste, maybe you like more sour frosting than sweet?

Place one base on a platter and spread 1/3 of the mascarpone cream, sprinkle with hazelnuts and some maple syrup. Repeat with the remaining bases, give a little more powder on top of the cake with more hazelnuts and pour on extra maple syrup and garnish with fresh flowers.

Tips!

The cake works just as well as a small high cake as a big cake with frosting. If you make the cake it is good if the bases do not get too high. If you do not have room temperature butter, take out your cheese grater and plan slices of the butter on a plate. Then you have room temperature butter in 5 minutes.