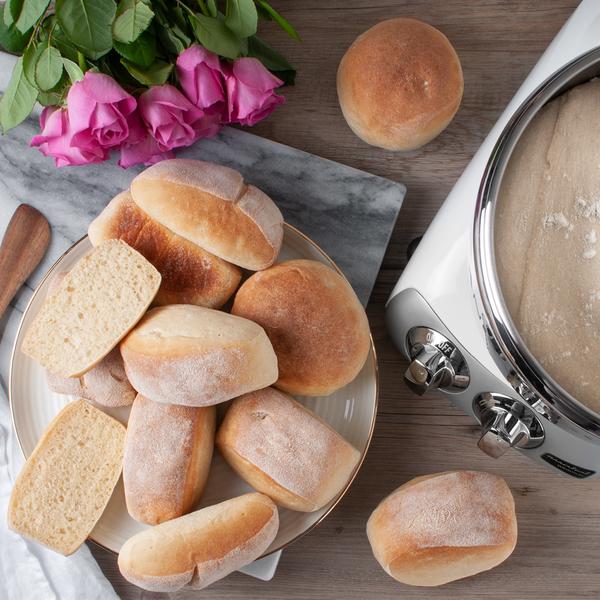 ingredienti
12 bread
25 g

yeast

600 ml

milk

48 g

rapseed oil

3 tsp

salt

1 tsp

sugar

180 g

durum flour

600 g

flour
Bread for Mother's Day
Celebrate Mother's Day with breakfast in bed – homemade of course! Surprise mom with freshly baked bread that has been fermented overnight.
Follow these steps – Day 1

Assemble the assistant with steel bowl, dough roller and dough knife.

Dissolve the yeast in cold milk.

Add oil, salt, sugar, durum and wheat flour. Work the dough for ten minutes at medium speed.

Put on the lid and place in the fridge overnight.

Follow these steps – Day 2

Cover two baking pans with baking sheet paper.

Pick up the dough on the floured table, divide it into two pieces and shape them into lengths. Cut the lengths into eight parts each and place on the baking pans.

Let rise for 30 minutes. Set oven to 225 °C (437°F).

Bake the breads in the middle of the oven for 10-12 minutes or until they have some color. Let cool a bit before serving.