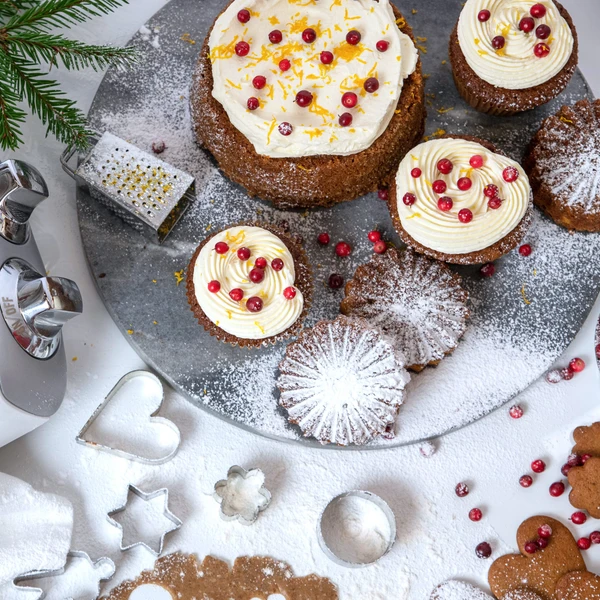 ingredienti
Gingerbread
180 gram

light mucovado sugar

45 gram

granulated sugar

150 gram

room-temperature butter

2 st

eggs

210 gram

wheat flour

0.5 tsp

salt

2 tsp

baking powder

1.5 tsp

ground ginger

2 tbsp

cinnamon

0.5 tsp

ground carnation

125 gram

lingonberry jam, tube

100 gram

fat yoghurt or sour cream
Frosting
200 gram

natural cream cheese

100 gram

cream

90 gram

icing sugar

3 tbsp

freshly squeezed orange juice

0.5 pieze

zest from orange
Garnish with fresh lingonberries and orange zest
Christmas Cake
A lovely Christmas cake with frosting and lingonberries.
Follow these steps

Set oven to 175 °C (347°F) and grease a baking pan.

Assemble the assistant with beater bowl and balloon whisks.

Mix butter, muscovado sugar and regular sugar for at least five minutes. Add one egg at a time and whisk for a minute.

Mix together all dry ingredients and add to the egg mixture. Gently turn around until everything is well mixed.

Carefully add the lingonberry jam and yogurt, mix and pour into baking pan.

Bake in the bottom of the oven for about 45 minutes, allow to cool down on a baking sheet paper. Otherwise, the cake will easily stick to the substrate.

Assemble the assistant again with beater bowl and balloon whisks.

Whisk together all ingredients for your frosting, whisk until firm and creamy. You may want to add more orange juice.

Place the cake on a platter and spread out plenty of frosting, garnish with fresh lingonberries and orange peel.