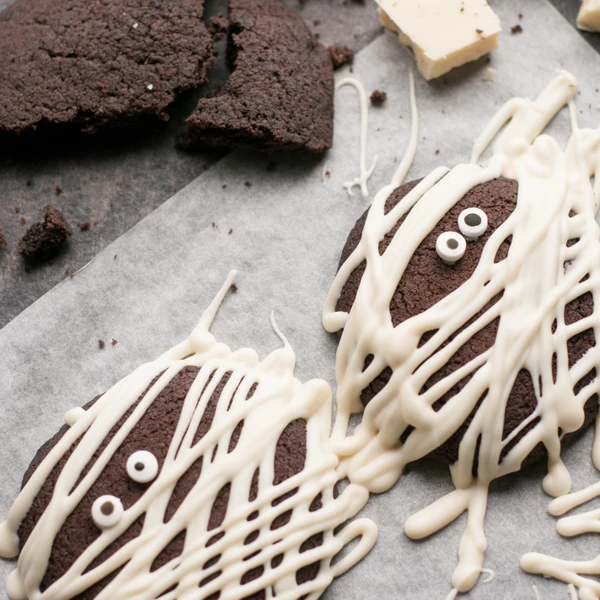 ingredienti
Cookies
2 st

eggs

180 gram

sugar

180 gram

brown sugar

70 gram

syrup, light

300 gram

butter

450 gram

flour

60 gram

cocoa

1 tsp

bicarbonate

0.5 tsp

salt

1 st

Food Colour, black
Topping:
Cake decorations
White chocolate
Candy
Dark chewy cookies for halloween
Happy halloween! Instead of candy for trick-or-treat, make these delicious cookies decorated with white chocolate, marshmallows and other sweets.
Follow these steps

Put parchment paper on a pie plate. Set oven to 180°C (356 °F).

Assemble the Assistent with beater bowl and cookie whisks. Or use your bowl and dough roller.

Whisk together sugar, syrup and eggs, add melted butter.

Mix flour, cocoa, bicarbonate and salt. Add and work into a smooth dough.

Add colour so that the dough will get a dark color, keep in mind that they become darker when baked.

Divide the dough, roll into balls of desired size and place on pie plates. Flatten them slightly.

Bake in the center of the oven for 8-20 minutes, depending on size. They melt out and are somewhat peaky when ready.

Remove the plate from the oven and tap gently against the table so that the cookies sinks a little. Allow to cool and then decorate as desired.