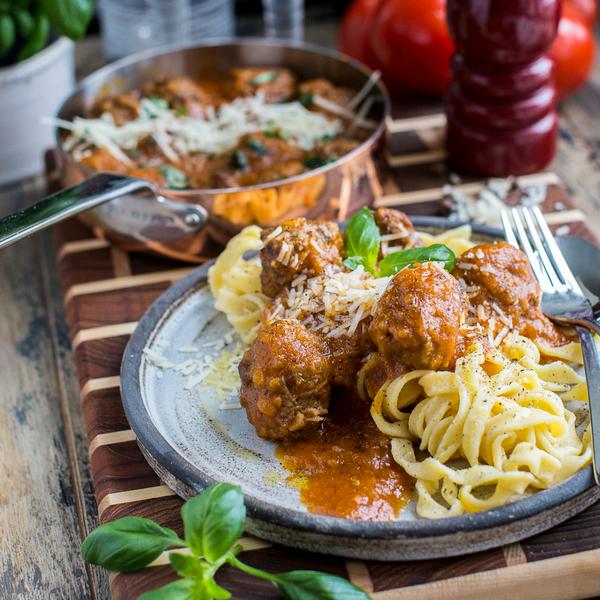 ingredienti
Fettuccine - 1 batch of pasta dough
Freshly grated parmesan
Meatballs
500 gram

beef

1

potato

50 gram

finely grated parmesan

50 gram

parma ham, finely chopped

1

pressed garlic clove

0.5

chopped yellow onion

60 gram

breadcrumbs

Salt and pepper

2 tbsp

cream

Butter for frying
Tomato sauce
6

peeled tomatoes

1

yellow onion, chopped

1 tbsp

butter

2 dl

water

0.5 dl

olive oil

1 tbsp

tomato puree

1 tbsp

honey

Zest and juice of 1 lemon

Salt and pepper

Fresh basil
Fettuccine and meatballs
A classic that makes anyone happy.
Fettuccine

Turn the Assistent on its side and attach the pasta roller for fettuccine.

Divide the pasta dough into small pieces and roll each part into oblong strips about 1/8 inch (4 mm) thick and a maximum of 4-5 inches (8-10 cm) wide. For best results, use the lasagne roller first to make lasagne sheets.

Start the Assistent at low speed and feed the pasta strips through the fettuccine roller. Let the pasta land on a generously floured surface.

Boil directly or hang to dry.

Cooking time about 2–3 minutes.

PARMESAN

Turn the Assistent on its side and assemble the grater attachment.

Start the Assistent and grate the desired amount of parmesan cheese.

Meatballs and tomato sauce

Turn the Assistent on its side and assemble with the mincer and the hole disc of 4.5 mm.

Cut the meat into thick shreds and grind at medium speed. Use the plunger to push the meat through.

Finish with half a raw onion, a potato or a piece of carrot to get all the meat out of the mincer (it doesn't matter if some of it ends up in the mince).

Mix together the meat, parma ham, parmesan, garlic, yellow onion and breadcrumbs until thoroughly combined.

Add cream.

Shape to round frikadeller (like meatballs) in desired size and fry in butter.

For the tomato sauce: Coarsely chop the tomatoes and saute with the onions in a medium saucepan.

Add water, olive oil, tomato paste, honey and the zest and juice of a lemon.

Let it cook for 10 minutes and season with salt and pepper.

Puree the sauce and then pour in the pan over the Frikadeller. Let this simmer together for a few minutes.

Top with chopped basil and fresh parmesan.

Serve together with the rolled fettuccine.