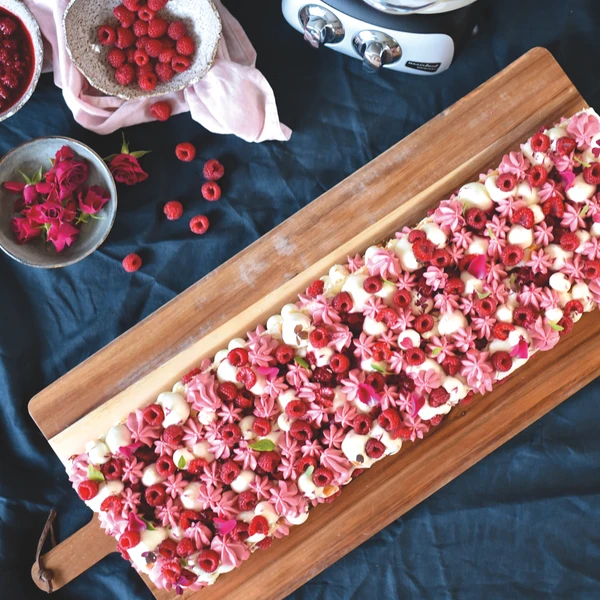 ingredienti
Cake
200 gram

room temperature butter

270 gram

sugar

10 st

egg yolks

200 ml

room temperature milk

240 gram

flour

4 tsp

vanilla sugar

4 tsp

baking powder
Meringue
10 st

egg whites

450 gram

sugar

2 dl

flaked almond
Whipped raspberry panna cotta
300 g

unfrozen raspberries

Juice from 2 lemons

800 ml

cream

180 g

sugar

1 tsp

vanilla sugar

6 st

gelatine leaves
Garnish
1 liter

cream with a little sugar

500 g

frozen raspberries

2 st

boxes fresh raspberries
Pinocchio cake with whipped raspberry panna cotta
Here is the perfect cake if you are going to have a big party. This cake measures 90 cm and is enough for over 50 guests.
Follow these steps

Whipped raspberry panna cotta:

Place the gelatine leaves in cold water. Thaw the raspberries in a saucepan and then add the cream, lemon juice, vanilla sugar and sugar. Let it boil and simmer for about 4 minutes.

Mix smoothly and strain into a bowl, add the gelatine leaves and mix. Refrigerate for at least two hours, preferably overnight.

Cake

Set oven at 140 °C (284 ° F) (hot air, cover two pan plates with baking paper.

Whisk the room temperature butter and sugar for about 5 minutes in your assistant. Then whisk one egg yolk at a time and finally stir down the milk.

Add the flour, baking powder and vanilla sugar. Add the batter on the two pan plates, leave about 2-3 cm to the edge.

Whisk the egg whites to a foam, add the sugar 1/3 at a time and whisk until you have a firm and glossy meringue. Spread the meringue on top of the batter and sprinkle with plenty of almonds. Bake for about 25-30 minutes until the meringue has a light tone of brown and the meringue looks crispy.

Allow the cake to cool completely before serving.

Assembly & decoration

Divide the cake bases in the middle and place 2 pieces on a tray. Whisk the panna cotta and pour it into a spiral bag, spread out on the whole cake. Whip the cream with a little sugar until lightly whipped and fill a round bag with a hole. Add the cream and the thawed raspberries on top of the cake. Add the other bases and garnish with panna cotta, whipped cream, thawed raspberries and fresh raspberries. Finish with some fresh flowers like oxalis, rose petals or mint.