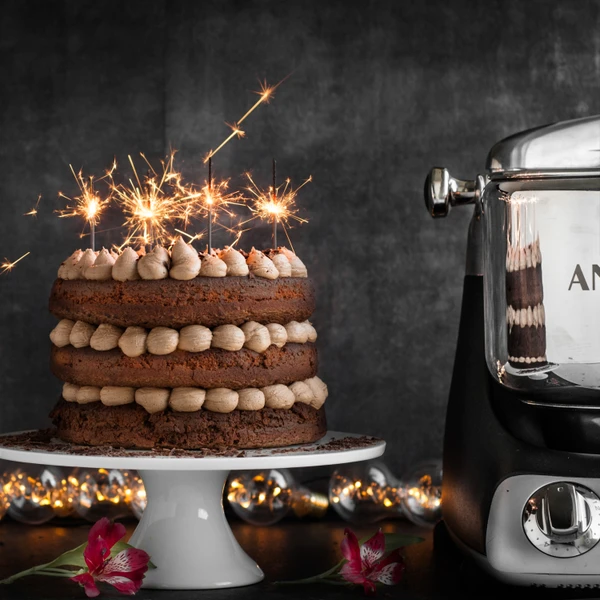 Ingredients
Cake
175 gram

butter

100 gram

chocolate, dark

300 gram

flour

2439 gram

icing sugar

80 gram

cane sugar

0.5 cup

cocoa

1 tsp

bicarbonate

1 tsp

baking powder

3 st

eggs

200 ml

yoghurt

0.5 tsp

salt

100 ml

water, hot
Filling
200 ml

cream

400 gram

cream cheese

60 gram

icing sugar

300 gram

chocolate, light
Topping
Butter, flour and cocoa for the baking pans.
Festive chocolate cake
Celebrate new years by making this festive chocolate cake.
Follow these steps

Set oven to 175 °C (347°F).

Grease three baking pans carefully with butter. Mix flour and cocoa and flour molds.

Chop the chocolate and melt with the butter.

Assemble the assistant with beater bowl and balloon whisks.

Mix flour, sugar, cocoa, bicarbonate and salt.

Whisk together eggs and yoghurt.

Add the dry ingredients and the melted chocolate butter.

Boil water and whisk together quickly.

Spread the batter into the baking pans and bake in the center of the oven for about 15 minutes.

Remove the baking pans, allow to cool completely.

Chop and melt the chocolate for the filling.

Assemble the assistant again with beater bowl and balloon whisks.

Whisk the cream lightly and add the cream cheese and icing sugar.

Add the chocolate while whisking.

Spread the filling evenly on the bases. Chop the rest of the chocolate and sprinkle over.