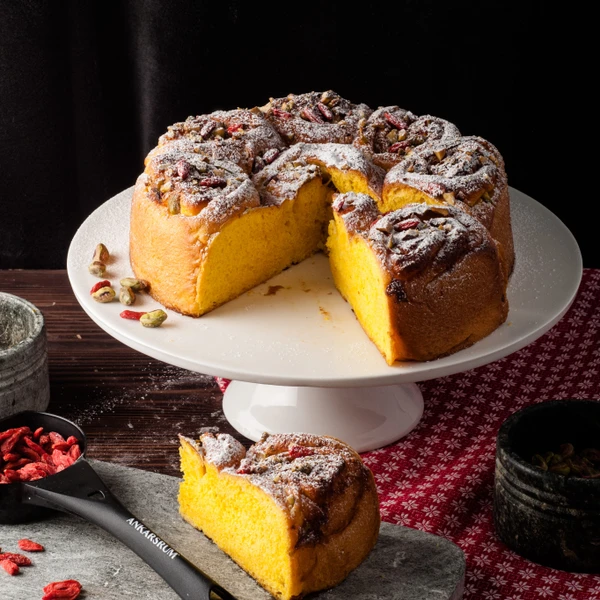 ingredienti
Cake
25 gram

fresh yeast

250 ml

milk

75 gram

sugar

1 gram

saffron

360 gram

flour (360-420 g)

1 st

egg
Filling
100 gram

white chocolate

45 gram

sugar

50 gram

salted butter (room temperature)
Topping
65 gram

pistachio nuts without shell

1 st

egg

3 tbsp

wolf berries
Garnish with icing sugar
Simple Syrap
100 ml

hot water

45 gram

sugar
Saffron butter cake
Try this beautiful saffron butter cake with white chocolate, pistachio nuts and wolf berries.
Follow these steps

Place a baking sheet paper in the bottom of the baking pan and butter the edges.

Assemble the Assistent with the bowl, dough knife and dough roller.

Heat the milk to 37°C (98°F) in a small saucepan.

Crumble the yeast into the bowl, add the milk and start the Assistent with the dough roller right next to the edge, at low speed until the yeast dissolves.

Add room temperatured butter.

Crush saffron and some sugar in a mortar.

Add the saffron mix, egg, sugar, salt and flour to the dough.

Increase speed to medium. Lock arm in about 1 inch (2-4 cm) from the side of the bowl. Set the timer for 5 minutes and let knead.

Cover the bowl with the bowl cover and let it rise for 2 hours.

Mince the chocolate and the nuts.

Work the dough on a floured surface and roll to a rectangle, 36cm wide.

Roll the rectangle from long side do long side and cut the roll in 8 pieces (about 4,5 cm wide)

Place one pieces, with the edge upwards in the middle of the buntpan. Then place the other pieces in a circle around.

Let them rise for 2 hours under a towel.

Set oven to 200 °C (390°F)

Brush the buns with egg and bake in the oven for 15 minutes.

Lower the temperature to 175°C (350°F) and bake for another 15 minutes.

Prepare the simple syrup and brush on top of the cake.

Decorate with wolfberries, pistachio nuts and icing sugar.