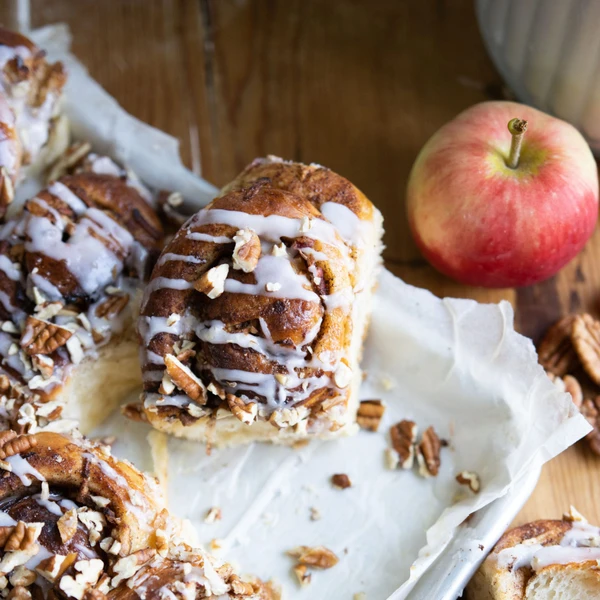 Ingredients
Dough
100 g butter

25 g of fresh yeast (or 10 g instant yeast)

250 g milk

100 g heavy cream

100 g sugar

1 egg

A pinch of salt

480-540g wheat flour
Filling
125 g room temperature butter

100 g brown sugar

1 tbsp flour

2 tbsp cinnamon

2 apples
Topping
1 egg

120 g powdered sugar

1-2 tbsp water

100 g pecans
American Cinnamon Buns with apple & pecans
Experience the warm, homemade goodness of American Cinnamon Buns, lovingly crafted with the sweet embrace of apples and the delightful crunch of pecans.
Follow these steps

Melt butter and combine with milk and heavy cream. Heat up the mixture to 37°C (100° F)

Assemble the Assistent with dough roller and dough knife.

Crumble fresh yeast or add instant yeast into the bowl, then add remaining dough ingredients. Start machine on low speed and gradually increase to medium. Knead dough for 10-15 minutes.

Add lid and allow dough to rise for 60 minutes.

Mix all the filling ingredients except the apples. Grate the apples coarsely, squeezing out the juice.

Roll out dough into a rectangle, approximately 30 x 40 cm. Evenly spread filling over dough surface. Distribute grated apples over filling.

Roll up lengthwise and cut 12 equally wide pieces. Place pieces in a greased baking pan, folding down the edge under each bun.

Cover baking pan and let buns rise for 45 minutes.

Preheat the oven to 225 °C (440°F)

Brush buns with a beaten egg. Bake buns in the middle of the oven for about 8-10 minutes.

Allow buns to cool completely.

Gradually add water to powdered sugar to create a smooth glaze. Drizzle glaze over the buns and sprinkle pecans on top.

Enjoy your delicious American Cinnamon buns with apple and peacans!