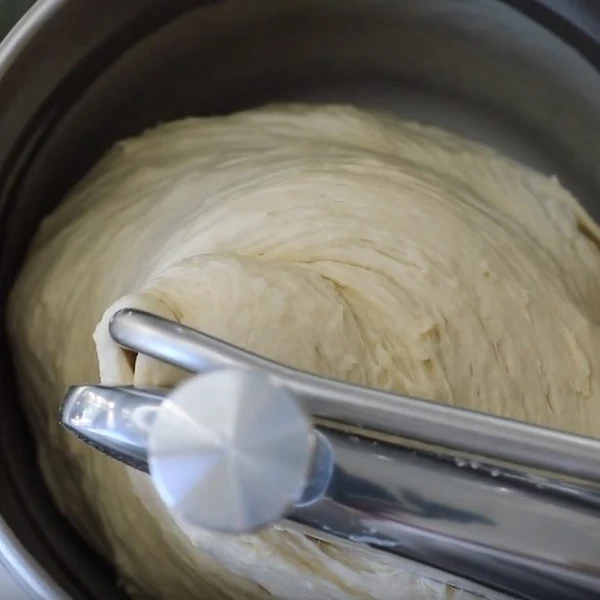 Ingredients
200 g

melted butter

1900 g

milk

150 g

fresh yeast (50 g of instant yeast)

2700 g

flour

30 g

socker

20 g

salt
Baking with 5 kilos of dough
How to prepare 5 kilos of dough in Ankarsrum Assistent Original.
Follow these steps

Assemble the assistent with steel bowl, dough hook and dough knife.

Melt butter in a sauce pan and add the milk.

Add yeast in the steel bowl.

Add butter and milk from the sauce pan.

Start the machine on low speed.

Add flour little at a time.

Push the arm back and forth.

Add sugar and salt.

Do not lock the arm.

Set timer for 12 minutes.

Use the spatula to remove dough from the dough hook.

Place the dough on a floured table.

Divide the dough into two pieces. Place on piece in the steel bowl and the other piece in another bowl to rise until doubled in size, 30 minutes to 1 hour.

Turn out the dough onto a floured surface and divide into 8 equal portions. Shape each portion into a loaf and place on a baking pan with baking sheet paper.

Brush the sides of the loaves with melted butter, making it easier to separate them after baking.

Cover and let them rise for 20 minutes.

Preheat oven to 225°C (425° F).

Brush with egg and sprinkle with poppy or sesame seeds. Bake in the lower part of the oven for 30 minutes or until golden brown.

Cover the bread with a kitchen/tea towel and let cool on a wire rack.