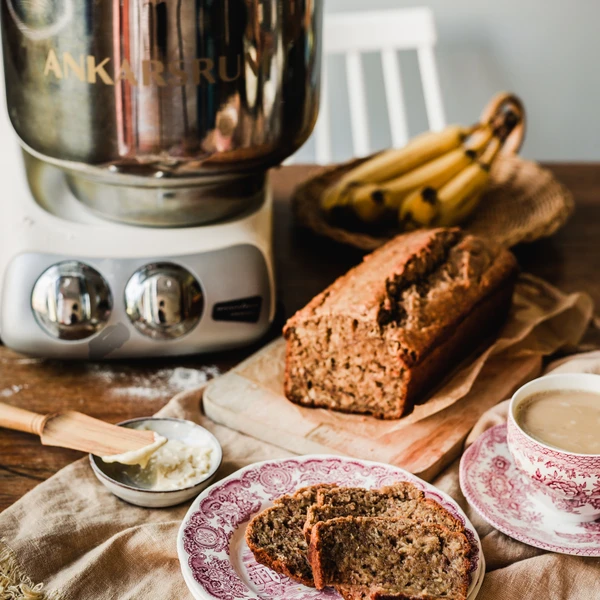 Ingredients
250-270 g banana (about 2 large bananas)

300 g flour

150 g (light) brown sugar

60 g rolled oats

3 tsp Ceylon cinnamon

2 tsp ground cardamom

1 tsp baking powder

½ tsp baking soda

½ tsp salt

100 g / 100 ml dairy-free yogurt such as coconut yogurt

250 ml plant-based milk such as oat milk

80 g melted dairy-free butter / margarine + a little bit more to grease the baking pan
Banana Bread
Have you ever tried banana bread? Banana bread tastes best freshly baked. Serve with your favorite toppings.
Follow these steps

Preheat oven to 180 C / 355 F.

Grease a 26 x 11 cm loaf pan.

Assemble the Ankarsrum Assistent with the bowl, dough roller and dough knife.

Mash the bananas on a plate with a fork until they are smooth.

In a separate bowl, mix the dry ingredients: flour, sugar, oats, cinnamon, cardamom, baking powder, baking soda and salt.

Add the bananas to the Ankarsrum Assistent bowl and start the machine with the dough roller and dough knife on low-medium speed.

Add the yogurt and milk to the bowl and keep on mixing on medium speed.

Slowly add the dry ingredients to the bowl while the Assistent is on low-medium speed.

Add the melted butter last and mix until the batter comes together.

Pour the batter on the greased loaf pan and bake in the oven for about 50-60 minutes or until a toothpick test comes out clean. Test the bread with a toothpick from the highest part and if a lot of batter sticks to the toothpick, let it bake for a few minutes more. The banana bread should be ready in about 60 minutes.

Let the bread cool in the pan before removing it.

Enjoy the bread with dairy-free butter or nut butter.