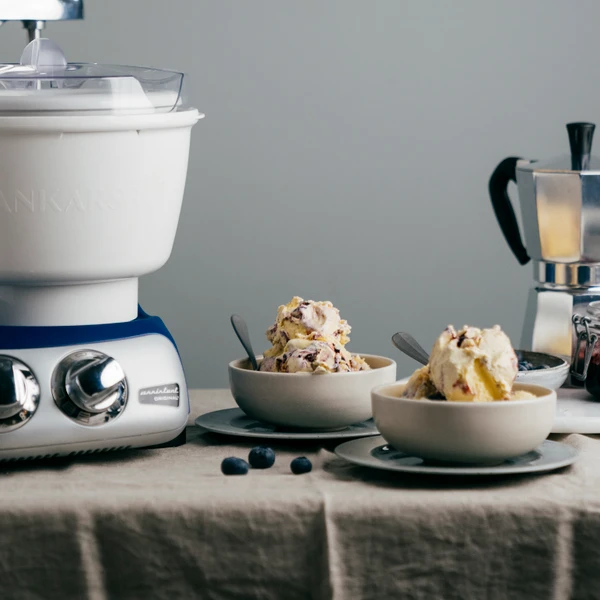 Ingredients
4 egg yolks

150 g sugar

250 g milk

150 g cream

1 vanilla bean

50 ml blueberry jam

100 g crachers

0.5 tsp cardamom

25 g butter
Blueberry cheesecake ice cream
The perfect dessert for those who love both ice cream and cheesecake.
Before use

Place the freezer bowl in the freezer, -18 ºC for 20-24 hours.

Follow these steps

Assemble the assistent with the beater bowl and balloon whisks.

Whisk the egg yolks with the sugar until fluffy. Scrape out the vanilla bean.

Add vanilla, milk and cream to the batter. Mix well and place in the fridge for 30 minutes.

Set the oven to 200 C.

Crumble the crackers and mix with the cardamom and butter which you cut into small pieces.

Roast in the oven until golden, about 5 minutes,

Pour the batter into the ice cream machine and run for 20-25 minutes to the desired consistency.

Pour the ice cream into a mold and build layers with blueberry jam that you swirl and add the roasted cardamom crackers. Top with crackers and place in the freezer overnight.

Enjoy!