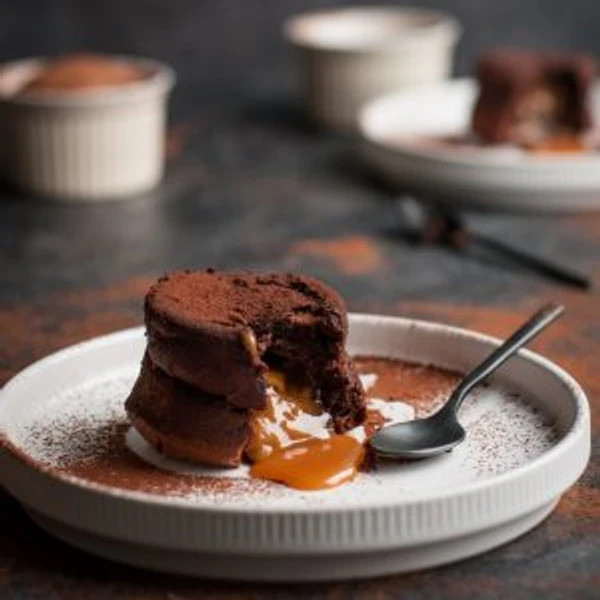 Ingredients
100 gram

dark chocolate

100 gram

butter

45 gram

brown sugar

1 tsp

vanilla sugar

2 st

egg

2 st

egg yolks

30 gram

flour
Filling
100 ml

caramelized milk (dulche de leche)

1 pinch

sea salt
Butter and cocoa for the pan forms
Chocolate fondant with caramel
Make this beautiful Chocolate fondant with caramel filling. Easy to make with our beater bowl and balloon whisks.
Follow these steps

Set oven to 200°C (392 °F). Grease four small baking pans with butter and grind them with cocoa.

Melt the chocolate and allow to cool slightly.

Assemble the assistent with the beater bowl and balloon whisks.

Whisk soft butter, brown sugar and vanilla sugar.

Add eggs and yellows, one at a time, during whisking.

Add chocolate and flour, whisk fluffily.

Distribute most of the batter evenly in the baking pans. Place a quarter dulche de leche in the middle of each pan, sprinkle with salt and cover with batter.

Bake in the center of the oven for 5-8 minutes, the center should be loose.

Carefully loosen the edges with a knife and flip out the shapes of the plates and serve immediately.