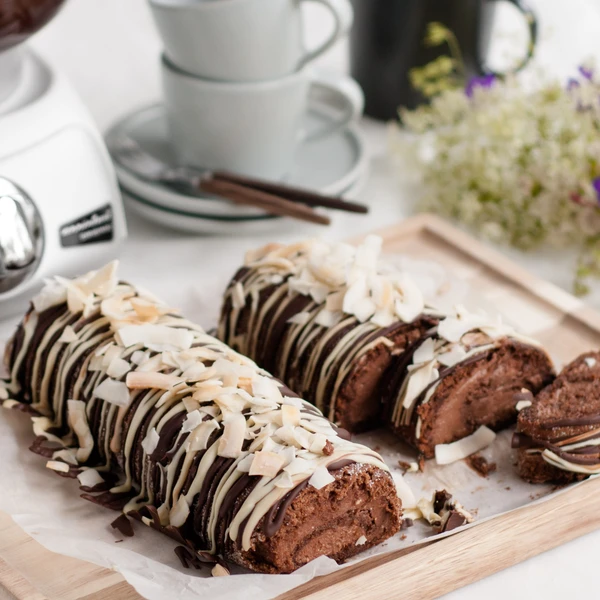 Ingredients
Swiss roll
3 st

eggs

135 gram

granulated sugar

1 tsp

vanilla sugar

60 gram

flour

2 tbsp

cocoa

1 tsp

baking powder

1 st

Butter for the baking plate
Filling
100 gram

Butter

200 gram

cream cheese

50 ml

strong coffee

40 gram

cocoa

90 gram

icing sugar
Garnish
50 gram

chocolate, dark

50 gram

chocolate, white

0.5 tbsp

rapeseed oil

40 gram

coconut chips
Chocolate swiss roll
A chocolate roll cake with chocolate filling topped with two kinds of chocolate.
Follow these steps

Set oven to 250°C (482°F). Lubricate a baking sheet paper carefully with butter and place on a baking plate.

Assemble the assistent with beater bowl and balloon whisks.

Whisk sugar and eggs fluffy.

Mix flour, cocoa and baking powder together with the egg whisk.

Spread the butter evenly on the greased baking sheet paper.

Bake in the middle of the oven for 3-5 minutes, keep track - it goes fast. The cake should get just some color.

Put sugar over the cake, put a new baking sheet paper on top and turn it upside down on an oven grid. Carefully pull off the first paper and let the cake cool.

Assemble the assistant again with beater bowl and balloon whisks.

Add the soft butter and cream cheese. Whisk until fluffy

Add cold coffee, cocoa and icing sugar, quickly whisk to a smooth batter.

Spread the filling on the bottom and roll from the long side to the long side using the baking sheet paper.

Put in the fridge to stiffen a little.

Melt the dark chocolate and the white chocolate seperatly and stir in half of the oil in the two chocolate varieties.

Stir chocolate, using a spoon, over the swiss cake and sprinkle with coconut, allow to stiffen in the fridge.