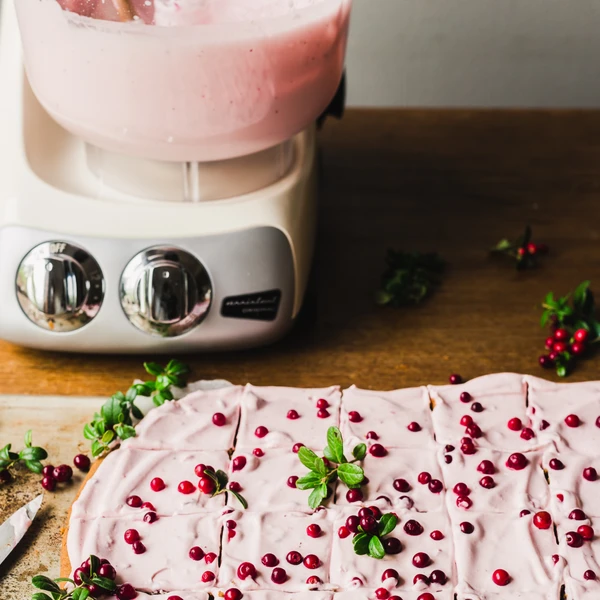 Ingredients
200 g butter

200 ml oat milk

140 g light brown sugar

120 g syrup

300 g flour

1 tsp baking powder

1 tsp baking soda

1/2 tsp salt

1 tsp cinnamon

1 tsp cardamom

1/2 tbsp gingerbread spice
Frosting
200 ml cream

150 g cream cheese

150 g lingonberry jam

60 g powdered sugar
Gingerbread sheet cake
With a lot of Christmas flavour, this beautiful gingerbread sheet cake with frosting is perfect to serve your guests. It can be prepared two days in advance, but can also be frozen!
Follow these steps

Assemble the assistent with bowl, dough roller and dough knife.

Add the butter, milk, brown sugar and syrup and mix.

Add the dry ingredients. The flour should be added a little at a time. When you have added about 1/2 of the flour you lock the arm 2-4 cm from the egde.

Spread out the dough in a baking pan that you have covered with a baking sheet paper.

Put in the oven for 15-20 minutes on 180 C (356 F)

Topping

Assemble the assistent with beater bowl and balloon whisks.

Add the cream and whisk until fluffy,

Add the cream cheese, jam and powdered sugar.

Assembly

Spread out the frosting on top of the cake. Garnish with lingonberries.

Serve as a cake or cut them into smaller snacks.