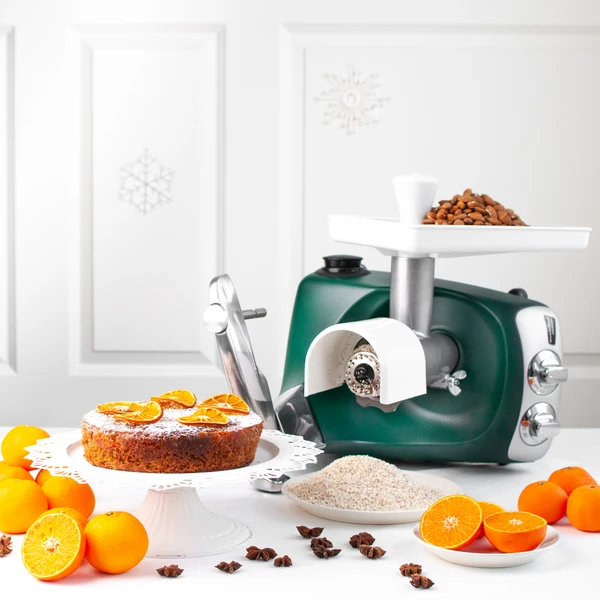 Ingredients
200 g sweet almond

4 star anise

2-3 clementines

25 g butter

35-40 g brownsugar

4 eggs

180 g sugar

150 g butter or margarine

100 ml milk

2 tsp baking powder

½ tsp cloves

Topping: ½ tbsp icing sugar
Gluten-free Christmas cake
Preparations for Christmas Eve have started. Try this gluten-free Christmas cake with sour clementinesand a sweet caramelized topping
Follow these steps

Assemble the assistentwith the Grater

Grind almonds and star anise.

Place a baking sheet paper on a baking pan, 20-24 cm.

Peel and slice the clementines thinly.

Cover the bottom of the pan with a thin layer of butter. Sprinkle brown sugar on top.

Place the clementine slices on the sugar and set the pan aside.

Set the oven to 175 °C (347°F)

Assemble the assistentwith beater bowl and balloon whisks.

Whisk eggs and sugar fluffily, at least 5 minutes on medium speed

Melt the butter, mix with the milk and add the batter.

Mix almonds, cloves and baking powder and add to the batter.

Pour the batter into the baking pan and bake in the lower part of the oven for just over 1 hour.

Allow the cake to cool completely in the pan and then turn it over on a platter. Carefully remove the baking sheet paper.

Top with icing sugar and top if necessary, with orange slices. Serve with whipped cream or vanilla ice cream.