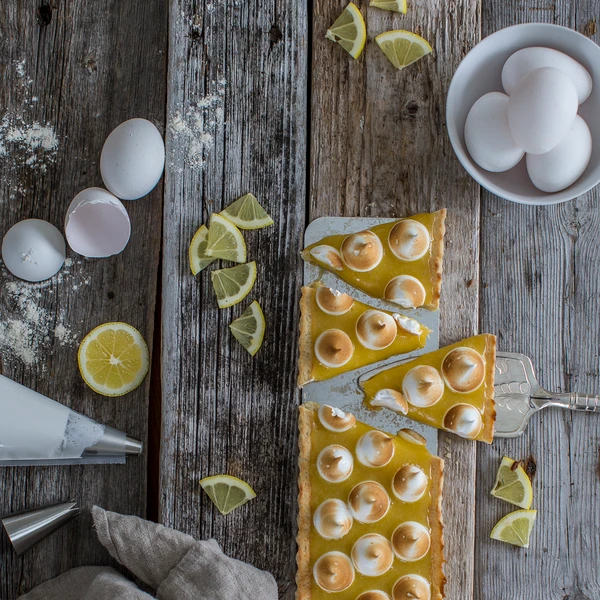 Ingredients
Pie crust
125 gram

softened butter

100 gram

granulated sugar

1 st

egg

240 gram

wheat flour

1 tablespoon

cold water
Lemon Curd
2 st

Lemons (the zest)

0.5 litre

squeezed lemon juice

3 st

egg yolks

125 gram

butter

200 gram

granulated sugar
Meringue
3 st

Egg whites

200 gram

granulated sugar
Meringue topped lemon pie
You always have room for this dessert.
Follow these steps

Pie crust

Assemble the Assistent with the beater bowl and the cookie whisks.

Add butter, sugar, eggs and flour. Start the Assistant at medium speed and run until you have a crumbly mass.

Add a tablespoon of water and let it merge into a smooth dough.

Leave to rest in the refrigerator for an hour.

Set oven to 225°C (437°F).

Press the dough firmly into a pie plate of about 28 cm and prebake for 8 minutes. Allow to cool.

Lemon Curd

Wash the lemons. Grate the peel, though only the yellow part.

Assemble the Assistent with the citrus press and press the lemons.

Mix together the lemon juice, lemon peel and egg yolks.

Melt the butter in a saucepan and stir in the sugar and lemon mixture.

Simmer on low heat during constant whipping until the cream thickens.

Leave the cream to cool off completely. The cream will thicken even more when cooling.

Pour the cream into the cool and pre-baked pie crust.

Meringue

Preheat the oven to 225°C (482°F). Only top heat.

Assemble the Assistent with the beater bowl and balloon whisks.

Beat the egg whites to a hard foam at high speed.

Add sugar, a little at a time and whisk to a thick meringue batter.

Distribute the meringue over the cream in the pie and bake the pie about 4 – 5 min. Keep track, so the meringue doesn't burn.

Let the cake cool before serving.