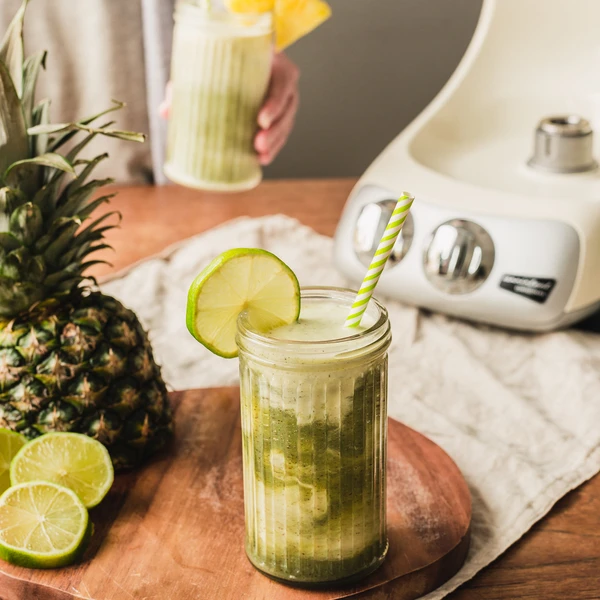 Ingredients
Piña Colada
200 g frozen pineapple

100 g fresh pineapple

250 ml creamy coconut milk

1 tbsp maple / agave syrup, or to taste
Kiwi Mocktail
the juice of 3 limes

2 kiwis, peeled

100 ml sparkling water or flavored clear soda

1-2 tbsp maple / agave syrup, or to taste

Optional: ice cubes, lime slices and pieces of pineapple for garnish
Mocktails
Piña Colada Kiwi Mocktail. The perfect mocktail for your next barbecue.
Follow these steps

Preparations the previous day: freeze 200 g of fresh pineapple pieces.

Assemble the Ankarsrum Assistent with the citrus press and press 3 limes.

Assemble the Ankarsrum Assistent with the blender.

Blend the frozen pineapple pieces, fresh pineapple and creamy coconut milk until smooth. Taste and add syrup to make it sweeter. Pour the mocktail into 2 – 4 serving glasses.

Wash the blender if you want to make a pure green mocktail, but otherwise you can blend the kiwi mocktail right after the piña colada.

Blend the peeled kiwis, lime juice, sparkling water or soda and syrup until smooth. Taste and add more sweetener if needed. The mocktail is supposed to be very tangy complementing the creaminess of the piña colada.

Pour the green kiwi mocktail into the piña colada glasses and swirl with a spoon or straw. Add a slice of lime and pineapple as a decoration.

You can also add ice cubes.

Tips!

You can also make two separate mocktails. To the piña colada mocktail add the juice of 1 lime while blending and it is ready! To the kiwi mocktail add more sparkling water or clear soda, a few tbsp of sweetener (or as you like), ice cubes and some mint for garnish.

Sometimes when blending kiwi, the color eventually turns from a lovely forest green to a dull green. In this case you can brighten the color of the mocktail with about ¼ tsp of spirulina powder while blending. You can't taste the powder at all since the fruit flavors are so strong.