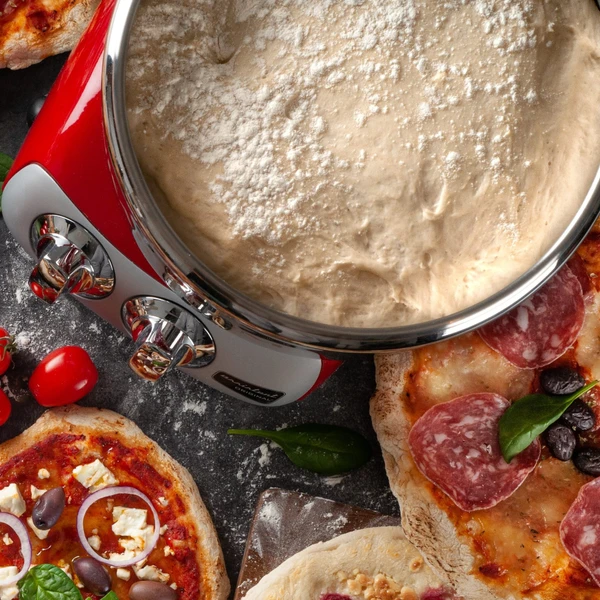 Ingredients
1000 g Tipo 00 flour

28 g salt

660 g cold water

0,3-0,4 g Fresh yeast

Dry yeast: 0,5 g mixed with the flour
Professional pizza
This is how you make pizza dough like the pros!
Assemble the assistent with bowl, dough roller and dough knife.

Fresh yeast: Add the water and let the yeast dissolve in the water. Turn on the assistant at low speed. Add the flour a little bit at a time until the dough is smooth.

Run for only 2-3 minutes on low speed, then cover the bowl with the lid and let it rise for 20 minutes.

Then knead the dough in the machine for 10-15 minutes at medium speed, you can see when it starts to be ready by pulling the dough - when you get a clear gluten window, the dough is ready.

Add a splash of olive oil at the end so that the dough is easy to work with.

Let the dough rise overnight.

When using a rain gauge, poke 80 g of dough into the rain gauge, which is oiled. Then flatten the dough in the rain gauge. The dough should measure up to 16-17 mm. The dough should rise to about 19 mm before dividing the dough into pizza balls.

If the fermentation process goes faster than you want, place the dough in the fridge to calm down in the fermentation process.

Divide the dough, about 230 g each and shape into pizza balls. Then place these in a 0.5 liter plastic jars that are oiled inside. The finer you shape the pizza balls, the easier it is to shape a perfectly round pizza.

Let the dough rise in room temperature. The dough in rain gauges should be up to 27mm. At least 26 mm, max 29-30 mm.

Preheat your baking steel for 1 hour before baking your pizzas. Preheat the baking steel at a high position in the oven and at maximum heat, with the grill element switched on.

Pour a large pile of flour on the baking table.

Tip the dough ball into the pile and turn it once. Then start working with your fingertips by pressing the dough straight down and flattening the dough into a pizza shape. You should not push out towards the edges.

Tip! To get golden brown edges, brush the edges with a little olive oil.

When the oven has preheated for at least 50-60 minutes, you can slide the pizza onto the baking steel with the help of your birch paddle. Keep an eye on the pizza and take it out after 2-3 minutes. Enjoy!