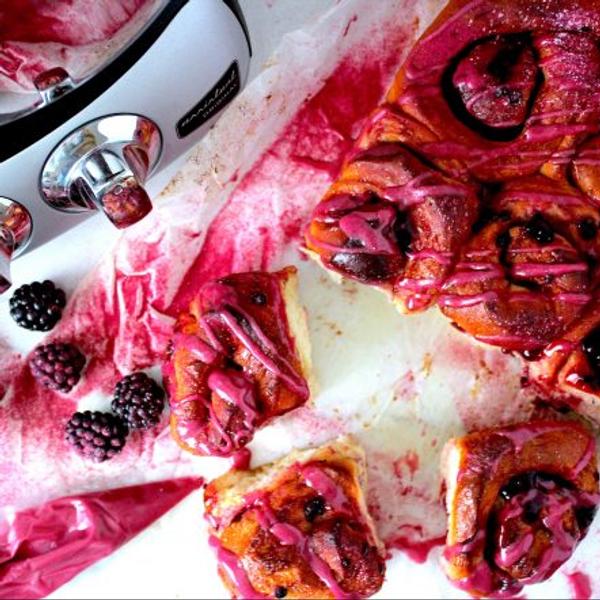 Ingredients
Dough
25 gram

yeast

250 gram

milk, 3%

2 tsp

cardamom

0.5 tsp

salt

45 gram

sugar

1 tbsp

vanilla sugar

1 st

egg

420 gram

flour

75 gram

room temperature butter
Filling
50 gram

room temperature butter

172 gram

blueberry jam

1 box

fresh blackberries
Glaze
60 gram

Icing sugar

2 tsp

water

1 tbsp

blueberry powder, or the juice from two blackberries.
Sticky Buns
Beautful buns stuffed with blackberries and jam. A perfect pastry, easy to make, so juicy and luxurious
Follow these steps

Assemble the assistent with the bowl, dough roller and dough knife.

Crumb the yeast into the bowl, add the milk and stir until the yeast dissolves completely.

Add the rest of the ingredients and work the dough smoothly in the assistant for about 10 minutes until the dough is shiny and elastic.

Put on the dough lid and let the dough rise for about 30 minutes.

Roll out the dough into a rectangle of about 40 × 50 cm.

Add the butter and then the jam, sprinkle with sliced ​​blackberries. Roll the dough into a long roll.

Cut the dough roll into buns. Place them quite sparsely in a greased baking pan, fold down the edge under the bun. Allow to rise to just under twice the size, about 45 minutes and set the oven to 200 °C (392 °F) hot air.

Bake in the middle of the oven for 12-15 minutes until the buns have a nice color.

Allow to cool completely, mix the glaze using the beater bowl and balloon whisks and add to the buns. It should be a little sticky to eat these buns!