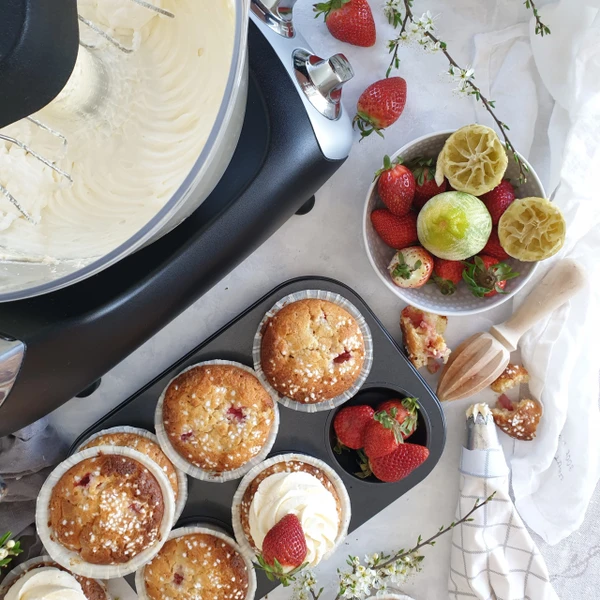 Ingredients
Cupcakes
200 g

butter (room temperature)

225 g

sugar

3

eggs

1 tbsp

vanilla sugar

1

measuring spoon salt

1.5 tsp

baking powder

240 g

flour

1

large lime (grated shell + juice about 50 ml)

150 g

strawberries divided into small pieces

200 g

white chopped chocolate

2 tbsp

granulated sugar to garnish
Summer Cupcakes
Summer cupcakes with strawberries, lime and white chocolate.
Follow these steps

Assemble the assistent with beater bowl and balloon whisks.

Whisk butter and sugar until fluffy.

Then whisk the eggs one at a time.

Then sift down the dry ingredients, stir to an even batter and then add lime juice + peel and the white chopped chocolate. Stir into a thick batter that you now pour into cupcake molds

Push the strawberries into the batter in each of the molds. By adding the strawberries in this way you can get a more even distribution of the strawberries and a better result

Lastly, sprinkle pearl sugar on top. Bake at 160 ° C for about 15-20 minutes (check with a stick to know when your cupcakes are ready.